Greg Doran's Private Passions recipe is a love letter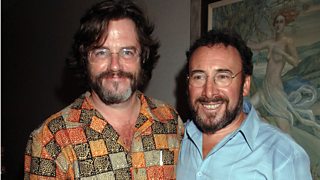 What's exciting about producing Private Passions for BBC Radio 3 – apart from discovering great music - is the way the programme provides intimate glimpses into the lives of all sorts of guests. As they share their favourite music with Michael Berkeley, there are moments where we see a side of them which isn't usually in the public eye – a real 'private passion'.
One such moment came recently as we recorded with Greg Doran, the Artistic Director of the Royal Shakespeare Company. He spoke about his 30-year relationship with the actor Antony Sher – they were recently named one of The Observer's top ten power couples. But Greg talked to Michael not only about their shared love of Shakespeare, but also about the South African comfort food he cooks for Antony when he's depressed. We asked Greg if he could share the recipe for listeners, and what he sent was not just a recipe; it was a love letter. Here it is.
Greg Doran's recipe for Sunday lunchtime Tomato Bredie (to cook while listening to Private Passions!)
Tomato Bredie is a traditional South African lamb stew ('bredie' is the Afrikaans word for stew).
My partner, Antony Sher, was born in Cape Town. Tomato Bredie was a great Sher family favourite. It was cooked for them by Katie Roberts, who worked for the Sher family for sixty years. Katie was from the Coloured (mixed race) township of Bonteheuvel. She taught me her recipe, which I have adapted over the years.
I use lamb neck fillets. They are ideal, as they release the fat deliciously into the meat.First brown the fillet pieces in a casserole. Then remove from pan and fry a large onion roughly chopped in the pan adding a little oil as necessary. You can fry a couple of chopped cloves of garlic in too, though Katie never used garlic.
When the onions are done (2-3 minutes), put the fillets back in the pan. And add a tin of chopped tomatoes. Then add a pint or so of good stock with a good squirt of tomato paste, and bring to a simmer. You can give a good grind of pepper at this point and salt to taste. Katie added sugar here, but I leave that out. Quite a lot of the Cape Malay recipes from Cape Town have an extra sweetness, some even add apricot jam to their curries. A Cape Malay version of tomato bredie, adds turmeric and green chilli, but I don't.
Now you can leave the pan alone and let it simmer gently for 2-3 hours.
Then check the pot. I add a little sprinkle of rosemary now, but Katie never used it.
Next par boil two or three chopped potatoes, and add these to the bredie. Let these steep themselves in the bredie for at least half an hour. Tony hates it if the potatoes are still starchy, they should be infused with the sauce but still retain their little firmness.
Serve with half gem squash filled with peas and a knob of butter, or rice.
I always make a good batch so there is plenty. It almost always tastes even better the next day.
I believe there is a Jewish saying that food is love. For me, tomato bredie is an expression of love.
Elizabeth Burke, producer, Private Passions