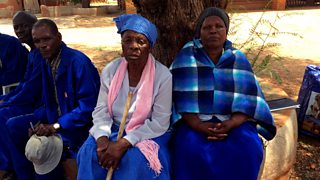 Lead singer Motlatsi Ratau in the middle -Traditional Dithlaka singer in Ramotswa Village
'Did I sound good?' asks the 90 year old singer. She certainly did. Motlatsi Ratau sits amongst a circle of men wearing bright blue mining uniforms. They blow on various lengths of copper pipe as she sings the stories of the Dithlaka music. Gathering together in the evenings, villagers from Ramotswa in the south of Botswana share their thoughts and worries – collectively expressing joy or concern, in a sort of musical group therapy session.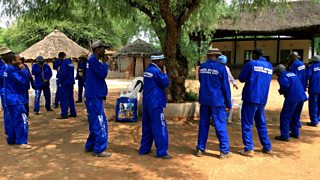 Balete Traditional Group in Ramotswa Village
Each player has a copper pipe (similar to a length of plumbing pipe) that plays one particular note. In groups of four players they play a series of tones, each group playing an octave lower than the previous. The players know their individual rhythm, and how they fit within the greater tapestry of sound they create. They are directed by the Muklaba, the director and tuner of the group. The singers join in and we hear about the death of a villager by a leopard. In another the sorrowful story of a dejected suitor.
As they play, the men move in a circle, stamping out cross rhythms with their feet and crouching down to jump energetically or change direction.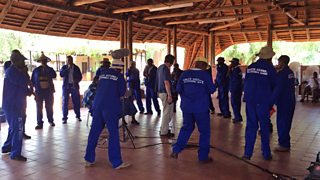 Balete traditional group perform
When I speak to the Muklaba, a man called Sialala Mooketsi I hear how he first learnt Ditlhaka music when he was a miner in South Africa. He tells me Ditlhaka means 'reed', as these were the original instruments used by herd boys who started the tradition many years ago. Nowadays the copper pipes are more popular and durable; however reeds are still used in the village, for doors and roofing.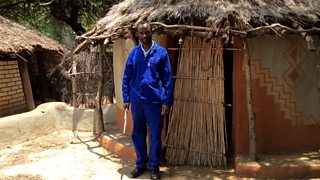 Sialala Mooketsi, the Muklaba (director) of the Balete traditional Ditlhaka group
Sialala explains that the pipes are carefully tuned; a wet cloth is adjusted inside the pipe to get the correct tone and sound. He listens to each player individually before assembling them together.
My colleague Roger Short and I are recording the Balete Traditional Group in Ramotswa village, south of Botswana's capital Gabarone. It's an ensemble of 16 players today, but I'm told the group often stretches to 25 players. They are farmers by trade, and we're very lucky that they have agreed to give up part of a precious working day to share their unique musical style with us.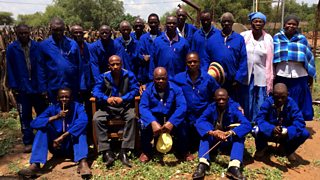 Balete Traditional group with Kgosi Tsimane Mokgosi
Kgosi Tsimane Mokgosi tells me that each village has its own style of playing and that this Ditlhaka traditional music is only found in Ramotswe village – one of the last 2 places in Botswana this music can be heard.
Laura Metcalfe
Commonwealth Connections is broadcast on BBC Radio 3 as part of World On 3 (Friday 11pm-1am) the series runs until the Commonwealth Games in Glasgow this July.