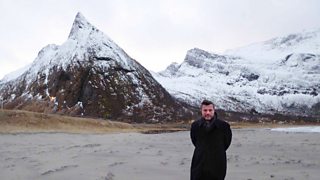 Petroc in Tromsø
The nights are long in Tromsø at this time of year. The North Norwegian city's residents are halfway through the season of Polar Night, when they bid farewell to the sun for more than six weeks.
Recording Music Matters there, producer Andy King and I made the most of the three hour long stretch of twilight that falls in late morning. For a brief period, the view across the bay that divides the city in two was spectacular; once or twice, in between snow showers, a few random patches of blue sky would appear. By one o' clock, faint reds and oranges suggested that, somewhere out there, the sun was setting. An hour later, pitch dark had returned, and my body clock was urging me to consider dinner and bed.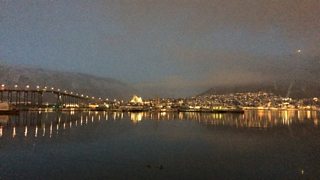 Tromsø in the half-light of day...
Those living north of the Arctic Circle (Tromsø is inside it by a good three degrees) are used to these long days of darkness, just as they cope with the 24-hour light in midsummer. Most of the people we met while recording admitted to sleeping more in the winter, but they also told how they were determined to remain active well into the evening. Popular restaurants are booked weeks in advance, a jazz concert we attend at the University Student Union is packed, and Tromsø's 70,000 residents have a choice of more than 20 choirs to join. We recorded one of them, Arctic Voices, as they rehearsed in the so-called Arctic Cathedral. Technically a parish church, it is the building that dominates the skyline, its triangular structure, with concrete panels folding into each other, captured on a myriad tourist photographs.
Formed originally for staff at the local hospital (and still partly funded by the health authority), Arctic Voices' 30 singers are directed with great energy by veteran Tromsø conductor and organist Guttorm Lindquist. 'Many people use music as a therapy,' he says. 'It snows a lot here and it's very dark – depression is quite common at this time of the year, so music is very important for us.'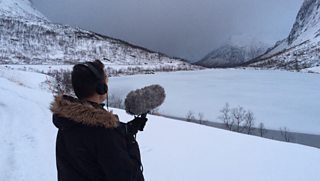 Andy with the mic
For Radio 3's Northern Light's season, we wanted to take Music Matters to the most culturally vibrant city within the Arctic Circle. Murmansk in Russia is bigger, and has a rich Orthodox Church musical tradition; we fleetingly considered Longyearbyen (78 degrees north) with its annual Blues Festival. And its polar bears... But nowhere else offers the musical diversity and variety of Tromsø. Several cutting edge musical figures familiar to listeners of Late Junction have made their home there. Former bel canto and Röyksopp singer Anneli Drecker has returned to her birthplace after two decades in Oslo. For Geir Jenssen (aka Biosphere) the city has become almost too lively. He has moved to a tiny fishing settlement on the island of Senja. We went to visit him there (an hour on a ferry, then an hour as the sole passengers on the local bus) and recorded with him on windswept beaches, in deep tunnels and by frozen lakes.
Back in the city we heard about the unconventional structure of the Arctic Philharmonic. Its management, and half its players are in Tromsø, the rest are 500 kilometres south in Bodø. Sometimes they play as two chamber ensembles, sometimes they come together as a full orchestra. We heard them accompanying the local ballet school's production of Delibes' Coppelia. Then there is the Joik – the great, emotional cry of the Sami people. For years church and state tried to suppress the Sami's way of life; now their music, each Joik unique to an individual, is enjoying a renaissance, as we report in the programme.
'The Paris of the North' was the nickname for Tromsø in the 19th century – and to this day it remains a bright beacon of civilisation, its cultural light shining out across the dark, cold north.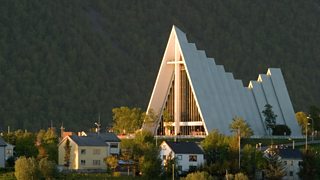 The Arctic Cathedral
Petroc Trelawny presents Music Matters on Saturday at 1215pm, repeated on Monday Jan 4th at 10pm.