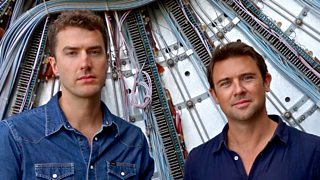 Mark Bowden and Owen Sheers at CERN
In the first of a series of blogs, Mark Bowden, resident composer at the BBC National Orchestra and Chorus of Wales, writes about the journey from initial idea to world premiere – as he prepares to write a new work for the crchestra and chorus
Everything came from nothing. Time, space and matter. Life. Ideas, even. This simple yet devastating scientific concept, put forward by the physicist Lawrence M. Krauss, is the starting point for my current project: a new work for soprano, baritone, chorus and orchestra on the theme of creation. The piece is for the BBC National Orchestra and Chorus of Wales, and is created in collaboration with the poet Owen Sheers.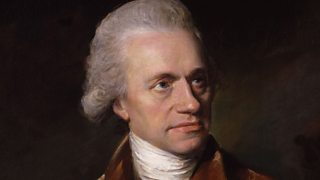 William Herschel
Since Plato suggested music and astronomy ought to be studied together as part of a classical education, many composers have been influenced by harmony's relation to cosmology and the origins of the universe. A famous example is Haydn's oratorio The Creation. Haydn claimed a visit to William Herschel ‒ composer, astronomer and discoverer of Uranus ‒ in Slough in 1792 helped him to write his most famous work. After looking through Herschel's telescope, Haydn was reported to have been dumbstruck for 20 minutes eventually exclaiming, 'So high, so far'.
To prepare for writing our piece, Owen and I read many books on the subject of origins: origins of matter, time, the universe and life here on Earth, but we didn't feel as though we were getting close enough to the latest ideas in the way that Haydn had in the 18th century. So we arranged a trip to the Large Hadron Collider at CERN on the Franco-Swiss border, where we met particle physicists who introduced us to their latest research into the early universe. Talking to the scientists stretched our minds between extremes of scale – from the inconceivable vastness of the observable universe to the unimaginable quantum world of quark-gluon plasma (basic building blocks of matter) – and provided the springboard for the piece.
It's important to say the piece will not be a didactic musical lecture but rather, more in the spirit of Haydn, a personal response to the new mind-expanding scientific knowledge of our own time.
The piece has a title already – A Violence of Gifts – and as I write I am very close to completing the first full draft of the score. So this blog will not be a diary documenting my writing experiences and ideas as they occur but rather a series of reflections upon the discussions with Owen, our trip to CERN, my self-imposed periods of variously snowy and sunny solitude, and my thoughts on music's relationship to science. Through the blog I hope to reveal a little about the intangible process of writing music, brimming as it does with creative uncertainties and constantly shifting ground, the experience of collaboration between music, poetry and science and, ultimately, what it might mean to say that something, everything, could have come from nothing.
A Violence of Gifts will be performed by BBC National Orchestra and Chorus of Wales at St David's Hall, Cardiff, on Saturday 18 April 2015.