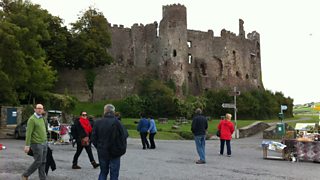 Laugharne Castle BBC Production Team
BBC Wales project manager Nick Andrews describes the daunting task of mounting a radio festival in a Welsh castle without touching any of the walls ...
From the 2-5 May we really wanted to commission 'Laugharne Live' - a BBC radio festival saluting the stunning works of poet Dylan Thomas. And we really, really wanted to host it in Laugharne castle, South Wales.
But getting into a castle can be tricky. Even for the BBC.  
The archaeologists eyed me up and down suspiciously. Could a marquee with full broadcast capabilities really, truly, honestly be attached to the grounds of their beloved Laugharne Castle without any pegs at all? Promise? Breathing deeply I replied: 'With water weighted rigs, my friends, anything is possible.'
And with that (and some paperwork), we'd semi-stormed the castle.
I say semi-stormed because as well as the grounds being considered an archeologically rich environment, the fabric of the building is too.  
The first recce of the castle took place more than five months ago: the team has been meeting regularly ever since. The logistics have been mind-boggling. And we've been scheduling, re-scheduling and re-re-scheduling the weekend - a huge amount of work, but worth every complexity!
This week an army of engineers and technical wizards are set to complete the storming of the castle and build our broadcast village. Unfortunately, the portcullis was a little too low for our trucks to squeeze through, meaning that much of the kit will have to be carried in by hand.  
And so, here we are, a few days out from 'Laugharne Live': access to Laugharne Castle secured. Tickets sold out (almost). And shows, so many, many shows stacked, racked and packed ready for action. Alongside a host of BBC Radio Networks, BBC Radio 3 will be there in force with Ian McMillan presenting flagship poetry show The Verb, and In Tune will be bringing its exciting mix of great music to the castle. Find out more about Radio 3's Dylan Thomas Day.
It's set to be a glorious celebration of a wonderful poet. And Laugharne - a setting described by Dylan as a 'timeless, mild, beguiling island of a town' - is a poignant backdrop for the event. Laugharne was hardly rest to Dylan Thomas. Nowhere really was, as the bills came in and his marriage disintegrated. But the atmosphere of the estuary which is the backdrop of the castle still carries the atmosphere which certainly inspired some at least of the great writing. This will infuse all of our broadcasting too. 
Everything's in place, so please come along and be part of the experience from our water weighted marquee, Laugharne Castle. Now, where are my pegs ...