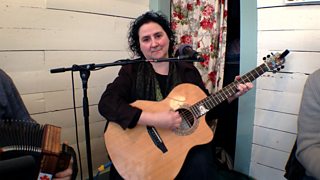 Canada
Producing this feature has been an immense JOY and researching the music of the fascinating island of Newfoundland has been a truly illuminating experience for me. It's amazing to learn of how strong an impact Scottish, French and Irish music have had on the traditional music of Newfoundland and how their lasting influence can still be heard today.
I initially made contact with some musical friends, both Canadians, drummer Mattie Foulds and singer songwriter Michael Johnson in the hope of finding some leads and bizarrely enough it wasn't long before I found out that Mattie's mum is Artist Director of Canada's Celtic Colours Festival. Joella Foulds tipped me off and passed on contacts for some of Newfoundland's key players and my journey was now well underway. Working in different time zones had its challenges and after many attempts at trying to reach singer and collector of Newfoundland songs Jean Hewson (photographed above), I finally heard her warm tones at the end of my telephone line. She told me excitedly about a weekly jam session that she and friends participate in every Tuesday at a former hardware store and gathering place for the community, the kind of place that would parcel things up in sheets of brown paper and string.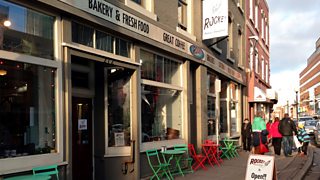 Outside The Rocket coffee house
The location for the music sessions, now a coffee house, '
The Rocket
', still retains a strong sense of community spirit and every Tuesday afternoon the room come alive with the hi-energy sounds of fiddles, accordions and guitars played at an incredibly fast pace entertaining the good folks of St Johns. Accordions feature heavily in the music of Newfoundland and it was through Jean I managed to track down local hero
Frank Maher
who has played accordion with almost every traditional band on the island at some point in his career. The programme captures his sense of mischief and humour and worth checking out the highly infectious 'Chasing Her Boy Round The Room'. During the war Frank would get on his small paddle boat and would entertain soldiers by straddling up close to the side of their ships in the hope that a few coppers would be thrown his way. He quickly found out that making music was never going to be a huge money spinner but at the top of the agenda for Frank was, and still is, a desire to share his passion for the music with the wider community and the new generation of players coming through. One of these players, Jean Hewson, gives an insight into island life and how the music of Newfoundland seems almost wedded to the sea with it's strong marine themes including songs and shanties about shipwrecks, fishing communities, and the magic and mystery of the wide open waters. As fiddler and academic Christina Smith puts it "the ocean was our road". A road which has welcomed so many different music forms to travel to and from the island.
Special thanks of gratitude go out to Glen Tilley and Terry Windsor from CBC (Canadian Broadcasting Corporation) for assisting in the recording of the music which I am deeply grateful. I hope you enjoy the life affirming sounds, energy and passion from all the musicians involved, sent from St. Johns with love.
Commonwealth Connections is broadcast on BBC Radio 3 as part of World On 3 (Friday 11pm-1am) the series runs until the Commonwealth Games in Glasgow in July.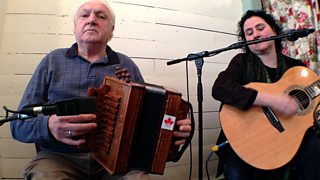 Frank Maher and Jean Hewson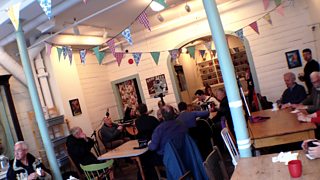 inside The Rocket coffee house