Time to Write
The orchestra rehearsals are about to begin in advance of the premiere of A Violence of Gifts. I find the days immediately before rehearsals an unsettling time – a strange mixture of disquiet and anticipation. I think it's due to the imminent transition from having a new work exist only in your mind to having it brought suddenly and vividly to life by musicians. As I prepare for this experience, I find thinking back to the solitude of the early stages of writing the music helps to calm my nerves…
I hadn't paid much attention to the North Polar Vortex until the day before I flew to Boston. It had been a few months since Owen and I returned from CERN. Armed with the first draft of Owen's text, I was getting ready to travel to New Hampshire, in the USA, to the MacDowell Colony to undertake an artist residency and start writing the piece. Just before setting off I received an email: an arctic cold blast was due to drop around 10 inches of snow overnight. I packed a couple of extra jumpers. Arriving at the Colony a few hours before the snow came, I was shown to my room where I unpacked and fell asleep. In the morning, the 450-acres of woodlands and fields, which make up the Colony, had been transformed. It was a striking, glittering landscape covered in snow, worlds away from my usual environment in South East London. I felt excited about the weeks of writing stretching before me.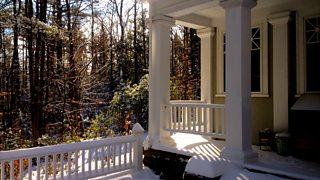 The MacDowell Colony
After settling in and getting my bearings I stuck Owen's text up on a huge, freestanding pinboard, spread out some of my initial sketches on the piano, and stared down at the blank manuscript paper. But nothing came. I started to feel worried. What if I had developed writer's block? At home I often have the feeling there is never enough time in the day to get things done, but here the morning stretched on forever. They say a week at MacDowell is equivalent to four in the real world. Without the usual distractions of home there seemed to be endless hours to fill. But after a day or so adjusting to this new rhythm, it struck me: time was exactly what I needed and what I was here for. I quickly adjusted to life at MacDowell and began working on the piece in earnest.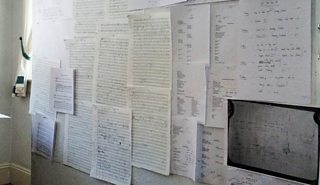 The MacDowell Colony is a very special place. In 1896, composer Edward MacDowell and pianist Marian MacDowell bought a farm where they spent summers working in the peaceful surroundings. Shortly afterwards, Edward fell ill and talked to Marian about his wish to give other artists the same creative experience they enjoyed. Marian set about building a community on the estate where writers, artists, composers and filmmakers from all over the world could come to work. All the studios at MacDowell have names. Mine was called Watson and was one of the first studios Marian had built. It was initially used as a concert space, so had the dimensions of a small recital hall. Today, being a live-in studio, it is furnished with a bed, small kitchen, bathroom and giant wooden desk in front of a beautiful open fire. Artists are invited to inscribe their name on to wooden 'tombstones' hanging on the walls of each studio following their stay as a record of all those who pass through. On closer inspection of this lovely tradition, I discovered my studio had hosted Leonard Bernstein several times. He had composed his Mass there during a residency. Other composers included Aaron Copland and Meredith Monk. I was in good company!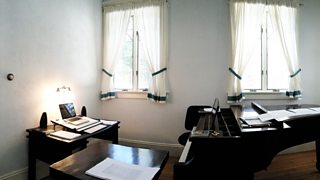 My existence became a happy cycle of writing from morning until evening, punctuated with long walks in the woods and building fires to keep warm. Lunch was delivered in a picnic basket to the doorstep each day to minimize interruptions. In the evenings, the day's work could be shared with other colony fellows over hearty home cooked meals and table tennis in Colony Hall. By the end of my residency I had written more than I could have hoped for. I had a full structure planned out with almost all of the vocal music written and about a third of the work completed in full score. Back in the UK, I was lucky enough to find time and space in Wales and at Aldeburgh Music to continue working, until I eventually completed the piece.
Now, just before rehearsals begin, I look back to my first blog and Lawrence M. Krauss's idea: everything comes from nothing. He explains in his book, A Universe from Nothing, how a vacuum is not really empty at all but full of matter and antimatter being continually created and destroyed. The infinitesimally small spot the universe would have occupied in its first moments would have been bursting with particles and energy that just had to go somewhere, and so they did. On reflection, I think the act of writing poetry or composing music is in some sense making something from nothing. And in a concert, there is silence and then the music starts. So, on some level Krauss's idea could be a metaphor for all music and all art.
I hope you'll join me and the BBC National Chorus and Orchestra of Wales for the premiere of A Violence of Gifts on Saturday 18 April at 7.30pm, either at St David's Hall in Cardiff or by tuning in to BBC Radio 3 for the live broadcast.
The BBC National Orchestra and Chorus of Wales will perform A Violence of Gifts on Saturday 18 April, 7.30pm at St David's Hall, Cardiff. It will also be broadcast live on BBC Radio 3.