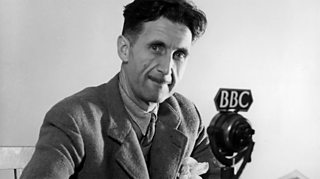 George Orwell at the BBC, 1943
We've had a great response to our initial blog about The Listeners' Archive, with plenty of offers of reels and cassettes via Twitter @BBCListeners. There are some great programme recordings out there, from Billy Cotton's Band Show and Music While You Work, to Junior Choice and Alan Freeman.
They're held by people who may just have taped one show they loved, to enthusiasts who have amassed amazing collections that form mini-archives in themselves. We'll be talking to them as many of them as possible to collect material for our programmes, and to record the stories behind the recordings.
The other side of the project is getting to grips with what might be useful for the BBC to hold. We've been working with programme makers and archivists to draw up a list of particular requirements.
We've also heard from listeners about programmes they'd just like to hear again. The list is a work in progress, and will constantly evolve, as gaps are filled and new requests arise. It ranges from individual performers, to broad genres. And this is where you come in. We're hoping someone pressed "record" on any of these, in any format, and that it might be gathering dust in a loft or cupboard somewhere in the UK. Some of the things we're looking for (See below for a more detailed list):
We're keen to find music sessions from high-profile artists and comedy programmes from before 1990.
Drama series are also in demand, from Mrs Dale's Diary and Waggoners Walk, to The Archers from 1948-1959 and 1969-1987, when there aren't complete runs in the archive.
We've learned there's very little held in the archive on "women's lib" from the 1970s.
We also want BBC appearances from George Orwell, Richard Burton and Dylan Thomas, and Reith Lectures from the 1950s.
Plus we're looking for recordings of regular live programming that captures the sound of a generation, but that may not have been considered important at the time – magazine programmes or DJ-presented shows from pre-2000. We'd love to hear, for example, Mike Read on Radio 1 talking about Frankie Goes To Hollywood!
Blow the dust off the recording and bring it along to one of our Open Days on Thursday 11th October – (see below for a list of venues).
And in the meantime, if you have any recordings in any format that you think we might be interested in, let us have the details now - we're on twitter @BBCListeners or email listenersarchive@bbc.co.uk. Please don't send any audio to us at this stage – we want to check first whether it's already in the archive.
Places to bring your tapes on Thursday 11 October, between 9am and 5pm:
BBC Radio 2, Western House, 99 Great Portland Street, London, W1W 7NY
BBC Radio Ulster, Belfast
BBC Radio WM, Birmingham
BBC Radio Bristol
BBC Radio Wales, Cardiff
BBC Radio Foyle, Derry/Londonderry
BBC Radio Leeds
BBC Radio Newcastle
BBC Radio Norfolk, Norwich
BBC Radio Nottingham
BBC Radio Sheffield
BBC Radio Solent, Southampton
BBC Radio York
Your recordings will be returned to the location where they were deposited; alternatively, please supply a self-addressed envelope with appropriate postage.
And here are those programmes and genres that we're particularly looking for:
Pre-1990 music sessions (i.e. BBC recorded music performances) in particular, high-profile artists.
Pre-1990 comedy programmes. For example, Hancock and Goon Shows all have missing episodes from the early series.
Pre-1990 drama and readings. Examples would include The Archers from 1950-1959 and from 1969-1987, periods where there are not complete runs.
Pre-1982 news bulletins.
Pre-2000 live presented DJ programmes and magazines – the daily mainstream output of networks.
BBC appearances by Dylan Thomas
BBC appearances by Richard Burton
BBC appearances by George Orwell
Interviews with Alma Cogan
First BBC appearances by Petula Clark
Coverage of "women's lib" in 1970s
Mike Read's "ban" of Frankie Goes To Hollywood: Relax – Radio 1
Waggoners Walk – Radio 2 soap 1969-80
Mrs Dale's Diary - Light Programme drama serial, 1948-67
Family Favourites
Midday Spin
Music While You Work 1940-67
Pick of the Pops 1955-72
Saturday Club 1957-69
Easy Beat 1960-67
Housewives Choice 1946-67
Top Gear (radio show - BBC Light Programme/Radio 1)
Junior Choice
Derek Jameson, Radio 2
Kenny Everett
Alan Freeman
Emperor Rosko
Out On Blue Six – Mark Radcliffe, Radio 1
Reith Lectures: 1949 Robert Birley; 1950 John Zachary Young; 1953 Robert Oppenheimer; 1956 Edward Appleton; 1957 George Kennan; 1958 Bernard Lovell; 1959 Peter Medawar; 1967 JK Galbraith
(Update - some new wants added 10/10/2012):
Desert Island Discs, first edition with Vic Oliver, which was recorded by Roy Plomley - 29 January 1942.
The Archers: The wedding of Phil and Jill: 16/11/57 - they were married on a Saturday - two episodes on Friday 15th and Monday 18th
The Archers: The Queen's coronation 03/06/1953 - there wasn't a programme on the actual day – 2nd June.
The Archers: Birth of Shula and Kenton: 08/08/1958
The Archers: Jennifer tells her parents she is pregnant: 17/01/1967
The Archers: The wedding of Pat and Tony: 12/12/1974
Radio Ulster's first day of broadcast - 1975
Radio Ulster: first "Talkback"
Radio Ulster: first Stephen Nolan show
Radio Ulster or Radio Foyle: first Gerry Anderson show
Radio Ulster: first Hugo Duncan show,
Radio Ulster: "McCooeys" (http://www.bbc.co.uk/programmes/p00dgyxx)
Appearances by JC Beckett – in particular, his history series "Ulster Since 1800"
Appearances by Tyrone Guthrie or Richard Hayward
Read BBC Radio at 90: The Listeners' Archive on the Radio Blog and Radio Reunited: Marking 90 years of radio on the BBC Mediacentre website for more information on BBC Radio at 90