Radio is thriving in the digital age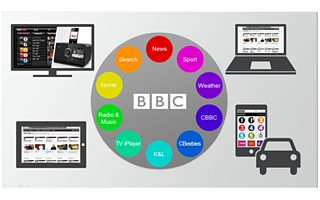 Ten products, four screens
Today I met with many of the BBC's partners and independent suppliers at the BBC Online Briefing.  A large part of the day has focused on the future of radio and I set out why I believe that radio will thrive in the digital age.
Radio broadcasting in the UK will turn 90 later this year and has remained central to many people's lives by continually adapting to changing tastes and opportunities. When TV became common in UK households in the 1950s, radio listening dropped by a third but it recovered over the following decades with a combination of technological innovation, such as the introduction of FM and the transistor radio, and content innovation, for example the launch of local and commercial radio stations. 
The impact of digital on radio is becoming clearer. Radio is thriving in the digital world because it offers unique and unmatched content and works hard to take advantage of digital opportunities.
A good example of this is the success of Radioplayer. The BBC worked closely with commercial radio to develop the technology that enables audiences to access content from hundreds of UK radio stations in a single player. We're currently in the process of updating our BBC Radioplayer console with more flexible technology, to deliver better live information and make it possible to discover BBC radio clips.
In line with the overall strategy for BBC Online, we are developing a Radio and Music Product that will improve our prominence on all digital devices. It will bring all BBC Radio together in one place, available on all mobile, tablets, desktop computers, digital radio and digital TV.
It will focus on the following opportunities in 2012:
Making live radio more visual, informative and social: using rich dynamic visual feeds and integrating social media, as we've already done for Radio 1 and 1Xtra.
Audio curation that blends editorial expertise, smart technology and social media: making it easy for people to discover and enjoy the world's greatest range of audio content.
Strengthening radio's position as the no.1 place for discovering music in the UK:  showcasing the amazing music events and talent that the BBC will deliver in 2012 and linking radio with online music services.
In addition, we'll focus on rolling out digital radio broadcasting (DAB). And we'll be exploring hybrid services that make the most of linking broadcast radio (FM and DAB) together with the internet to make the most of the advantages of each platform.
We have long advocated that radio is now often about more than simply listening. Listening remains central of course but for many people it's also increasingly about watching, interacting and sharing. Over the past five years, we've seen some decline in the hours spent listening to radio, particularly amongst younger listeners. It's in our younger audiences where we see the biggest response to filming music performances, for example BBC Radio 1's Live Lounge, or on Facebook, where Radio 1 has more than a million fans. This doesn't apply to all types of content and we are careful to tailor our approach to the programme and what that audience wants.
So over the next 12 months you'll see innovation and a lot of changes in how the BBC delivers its radio stations online. We'll being working closely with commercial radio and manufacturers on technology innovations. We're also keen to hear your feedback. For example, over the next few months, we'll be asking for your thoughts on new beta versions of some of our desktop homepages.
Our mantra in the UK radio industry to "cooperate on technology, compete on content" has never felt more important. By working together, radio will make the most of digital opportunities and emerge stronger than ever.
Mark Friend is Controller, Multiplatform & Interactive, BBC Audio & Music