BBC iPlayer Radio app now links through to Radioplayer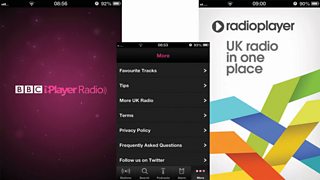 Recent listening figures from RAJAR suggest around 20% of the UK has listened to radio via a mobile phone. This figure nearly doubles to 37.6% for 15-24 year olds. It's not surprising then that the mobile apps that the BBC and Radioplayer both launched in late 2012 have proved very successful.
The BBC iPlayer Radio app on iOS (iPhone and iPod Touch) has been downloaded more than 1.4 million times since launch and, along with the Radioplayer app, it is being regularly used and driving up overall radio listening. The UK radio industry is all working hard to increase digital listening and mobile has a crucial role to play.
We're getting some great feedback on the design and functionality of the app and trying to make changes quickly to the issues you raise. Please keep your feedback coming to @BBCiPlayerRadio or via the app store.
One of the changes we've just made is to add a link from the BBC's iPlayer Radio app through to Radioplayer, helping audiences to more easily access hundreds of other stations from across UK Radio, including some community and student radio too. We hope this link helps BBC audiences to explore even more of the best of UK radio.
For more information on the iPlayer Radio mobile app, see James Simcock's recent post.