After launching on 8 October, we've seen an amazing response to the iPlayer Radio app, reaching one million downloads in just two months. This coincides with this week's update to the app which we've optimised for iPhone 5 devices, in response to audience feedback.
A million voices
With a million users, two months of anonymous stats data, hundreds of app store ratings and reviews, lots of feedback via twitter, via our blogs and via email, we're able to see some trends that, for me at least, are quite interesting, and are already helping to inform the roadmap for new features and improvements. I've broken out a few of those trends here.
What's your flavour?
iPhones make up the vast majority of downloads, although there are number of iPod Touch and iPad users downloading too.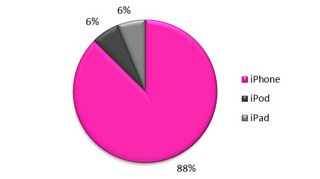 If you are an iPad user, you need to specifically choose 'iPhone apps' from the app store, as we do not currently have a version of the app built specifically for iPad.
What's the story, morning glory?
By far the most popular activity from the app so far, is 'waking up with Grimmy'. Whether it's by setting an alarm, or tuning in from home or en-route to work/school/wherever, from 7am each morning, there's a heavy bias to live listening to The Radio 1 Breakfast Show with Nick Grimshaw.
Interesting fact: 25% of active users listen live to Radio 1 in the app.
Radio 4's Today Programme and Radio 2's Chris Evans Breakfast Show are head-to-head for the position of second most popular morning programme.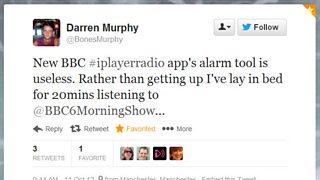 Long train running
By the early evening, and especially during peak commuting hours (5.30-7.30pm) we see a much more diverse range of programmes being consumed via the app. Radio 1 live listening still dominates, but Radio 4, Radio 5 live and Radio 2 are also very popular. We see an increasing number of users digging deeper into the app, browsing most popular or most recent on-demand programmes or video clips for instance, or using the search function to find specific programmes. Comedy shows do particularly well at this time too. A little escapism as people escape from work perhaps?
Interesting fact: The most popular search in the app is for Comedy.
Interesting fact: The most popular on demand programme to date is Radio 4's I'm Sorry I haven't a Clue.
Night time is the right time (for on-demand)
When we hit 9-10pm we see another uplift in on-demand listening - Radio 1 dance music specialist shows like Annie Mac and Pete Tong really come into their own during these hours.
Interesting fact: The most browsed music category is Dance & Electronica.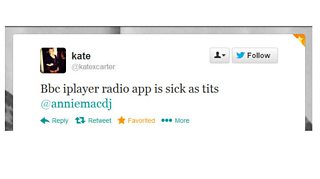 Pillow Talk
Late in the evening, Radio 4 becomes more popular than Radio 1 in the iPlayer Radio app. We see even more on-demand programmes being consumed. The calming and intimate tones of speech radio stations dominate as people take their phones to bed with them, and overdriven guitars and filthy dubstep basslines are put to bed till the following day. Programmes such as Radio 4's Book at Bedtime are popular and Radio 5 live also starts to outperform Radio 1 for late-night listening.
This is also the time that most alarms are set, and the sleep function (accessed from 'Night Mode' if you have audio playing) gets used most.
As I said in my introduction, these trends are really useful in helping develop new features and improvements in the app, both for iPhones and the work that is already underway bringing the iPlayer Radio app to Android phones in 2013.
As ever, your feedback on the app is appreciated. If you would like to send detailed feedback you can do so via radiofeedback@bbc.co.uk. It helps if you can provide specific information about how you are using this application such as handset type (e.g. iPhone 4/ iPhone 3GS/iPod Touch), connection type (e.g. WiFi/3G) and network operator.
Thanks to everyone who has downloaded and enjoyed thus far.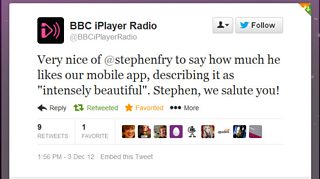 NB: All data is sourced from comScore | Digital Analytix
Related links: