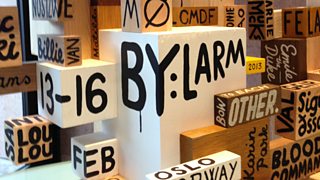 Sculpture in the entrance to the Hotel Royal Christiana
What is By:Larm?
By:Larm is a 4 day music event held in Oslo annually. According to an online translation service, the name translates as 'Urban Noise'.
What you will find there are lots of panels, seminars and training sessions through the day, and live performances from a diverse range of Nordic and Scandinavian artists performing at a selection of venues around the city by night.
By:Larm is abundant with networking opportunities for those working both in, and around music, including digital service providers, students, labels, artist managers etc and it's also a fabulous showcase for musicians from the region.
Panel Discussions
I was kindly invited to join a panel, moderated by Steve Mayall from Musically, titled Radio GaGa, with the intention of discussing "evolving radio models and examining how they will affect music marketing, payments, income, and opportunities for labels, artists, managers and other industry stakeholders". I was joined by delegates from Nokia, Soundhound and Somethin' Else, making for an interesting mix of angles on this subject.
The discussion began with each panellist challenged to describe what we thought 'Radio' meant these days which opened a can of worms (or maybe a more fitting analogy would be Pandora's box?) as we talked about two quite different types of service using the name 'Radio' to describe themselves, the more traditional, live broadcast model, and streaming services like Spotify, Wimp, Deezer, Rdio, Last.fm and Nokia Mix Radio.
The lines between streaming services and radio are beginning to blur as artists and DJs can easily curate and publicise playlists now. These services are not just about a search box and a big back-catalogue anymore. Like traditional radio, they can host individual personalities and act as a guide to music discovery.
After my panel, I had the chance to explore others. By:Larm hosts a packed agenda of seminars and training sessions, so I could not attend all of them, but certain themes came up repeatedly in those that I did:
It can appear tough for artists to get themselves well represented on the many streaming, and digital download platforms around now, but it's widely agreed that many such services are now proving to be successful businesses with a strong future. Online streaming, rather than purchasing music at all would appear to be a thoroughly mainstream activity now in Norway at least.
There's still work to do for both labels and digital service providers in the highly competitive yet potentially lucrative mobile space, where simple payment models and overall convenience can drive revenues. There was a whole panel on what can be done with RFID (Radio Frequency Identification) for example, explaining that it can offer much more than just the 'bonk to pay' (wireless payment from credit card or mobile phone) we're starting to see more now in UK stores.
We should expect to see more D2C (Direct to Consumer) offerings in the near future as artists and labels leverage the power of the internet to promote themselves, and sell directly – cutting out the middlemen and maximising their earning potential. Yet in parallel, the streaming sites with huge catalogues grow and grow in reach and engagement. It's an interesting time for the evolution of music sales.
By:Larm nights
As well as these industry discussions and presentations, the highlight of By:Larm for a lot of folks is the enormous choice of great Nordic and Scandinavian music on offer each evening. A great networking opportunity, whilst touring various venues around the city, sharing experiences with the people you've met in the conferences earlier.
There's also some amazing music to be heard.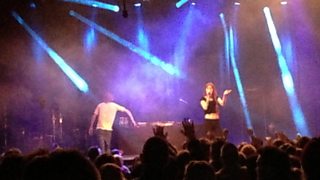 Elliphant gets the Rockefeller venue bouncing
I had expected to discover extremes of Black Metal and ethereal & melancholic Electronica, and although these two contrasting styles were undoubtedly popular, there were some sounds I was more surprised to hear, including intense Brostep from
Autolaser
, and block-rocking hip-hop from the likes of
Equicez
and
Adam Kanyama
.
I've created an A-Z playlist on Spotify (other streaming services are available!) of a lot of the artists performing over the 4 days of the event so you can hear what's shaking the speakers of Oslo these days for yourself. Admittedly, I missed out a lot of the metal, but there's loads of other playlists available from the event if you dig around.
You can read more about By:Larm including full seminar and artist listings on bylarm.no and many thanks and credit to Oystein, Lena and Mena for organising a great event.