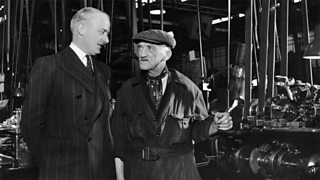 Thank you to everyone who contributed to Wednesday's first programme from the Listeners' Archive. Your recordings meant that on the BBC's 90th anniversary, we were able to hear previously lost radio moments - from Skiffle Club and Music While You Work (the picture above shows Mr Wynford Reynolds on a factory visit for Music While You Work from 1942) on the Light Programme in the 1950s, to Chris Evans' first show on Radio 1 in 1995, via appearances from legends such as Jack Jackson, John Dunn, Kenny Everett, Tony Blackburn, and John Peel.
Our thanks go to everyone who sent in audio - and in particular to listeners Charles Wright, Kay Vere, Alan Hyde, Mick Freed, David Roberts, Brian Field, and Colin Smith. Also thank you to our experts and collectors: Paul Wilson from the British Library Sound Archive, David Lloyd, Graeme Stevenson from the Old Time Radio Show Collectors Association, and Brian Reynolds of the Masters of Melody website.
We're still sifting through contributions and digitising audio, and will start returning tapes in the next couple of weeks. In the coming months, we hope to make more programmes from the great material you've told us you've got and/or already sent us, and if you have recordings we might be interested in, do let us know, at listenersarchive@bbc.co.uk or via Twitter @BBCListeners.
We still have one more fascinating programme made from your C60s and C90s; its producer, Heather Davies, tells us more:
'On the up-coming Cassette Edit of the Listeners' Archive (Sunday 18 November 12 noon, BBC 6 Music) Steve Lamacq will be opening the doors on his own private collection, which includes the very first interview and BBC session from a new band who would come to define the next decade of music, but who in 1999 hadn't left university yet... a new band called Coldplay.
In the thought-to-be-lost interview, a young Chris Martin tells how the band came to be, and how they left a copy of their first single in Lamacq's pigeon-hole, but that somehow no-one picked it up. After such an inauspicious start, Lamacq went on to see them play a small gig, attended (by their own admission!) mostly by their friends. Lamacq was so impressed that he then invited them in for their first session for the BBC, and he enjoyed the show so much, he later recorded it over a promo cassette to preserve the session in perpetuity. In the programme Lamacq talks about how strange it is to hear the show back: "I don't think they've changed that much as a band. The music is probably more ambitious now, but as people, they still have that mix of self-deprecation and a rather cheeky sense of humour".
The show also features previously lost archive from Pink Floyd, Eric Clapton, Paul McCartney and a young Gideon Coe who joins Lamacq in the studio.'
Will Jackson is the project manager for the Listeners' Archive