In a new series of feature blogs we are catching up with our Community Theatre and Theatre Fellows. Charlotte Mountford PAF Theatre Fellow 2014 (producer)The Lowry Salford Quays discusses her new project Flow Salford.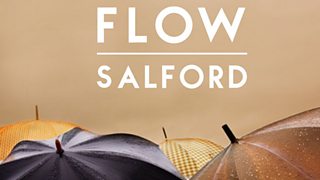 Flow Salford
The Flow Salford journey began in December 2013 when The Lowry and I were successfully awarded a BBC Performing Arts Fund Fellowship. It had always been a part of the application that the culmination of my fellowship would be some sort of showcase for local artists. After meeting with many Salford theatre-makers, directors, performers, writers, graduates, students, venues and lecturers my ambition for the project expanded.
I began to get other venues on board – The Kings Arms and Salford Arts Theatre – who were equally as excited about a festival of new local work as I was. We agreed that Flow would be a weekend festival celebrating the vast, the varied and the very new work being made in Salford today.  A diverse range of strictly Salford's newest talent would take up residency across the city's cultural landscape. We were excited about the cross-pollination of audiences this could provide as well; the opportunity to see something new in your go-to venue or venture to a different space to see something you like the sound of.
After seeing so much brilliant work in the city, I decided to make the selection process an open-call. The application wasn't strict, but applicants had to be based in Salford, or making work in the city with a proven dedication to its cultural landscape. We received over 30 eligible applications, all of a very high standard with exciting ideas
Working with the partner venues, we finally agreed on 8 local artists.  The final line-up includes sound-specialist Manoli Moriaty working with Shona Roberts, children's theatre company Scallywags, installation artist and performer Kate Daley, comedy sketch group Gein's Family Giftshop, solo artists Nathan Birkinshaw, site-specific specialists Moonstruck Me, dance by Laura Fay Thomas and interactive performance from Inkblot.
We had a lot of great applications from companies with fledging ideas that we wanted to see so we've also curated an evening of 'Flow Salford Snippets'. The night will give these companies the chance to perform 15 minutes of a work-in-progress to an audience and panel of experts.. These companies are 1956 Theatre, Northern Rose, Alex Summers and Fresh Loaf Productions.
Myself and the other venues involved hope that Flow will showcase Salford as hub of emerging talent. Flow Salford will encourage artists and audiences to explore the city, discover new talent and new spaces and… go with flow.