Meet the Winners: Glossop and District Choral Society
Glossop and District Choral Society will be using their Community Music grant to increase the skills and confidence of the choir and will be aiming to attract new younger members. Their project will cumulate in a performance at a local festival in 2013. What's their story so far?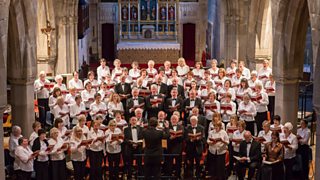 AW Photography, Glossop

1. Who are the Glossop and District Choral Society?
This friendly and inclusive 90 strong choir was founded in 1949.  We perform three concerts a year, often with professional orchestras and soloists and occasionally with local school children.  Rehearsals are always fun and fast paced, with a focus on preparing for the next performance.  Our members are aged 15 to 87, a good mix of some who have been with us for decades and newer ones too. 
We are ambitious in our concerts and often take on exciting projects to help us grow and develop.  The choir has performed the premiere of new compositions by our Musical Director Chris O'Hara including 'The Mountain' which reflected on the Kinder Mass Trespass story and 'The Trees Alone Remain' which was featured on the website of the Woodland Trust and celebrated their 'Jubilee Woods' campaign.
The choir enjoyed taking part in the 2008 BBC One TV drama series about choirs called 'All The Small Things' by one of our members Debbie Horsfield. We have also been on BBC Songs of Praise.
2. How will the BBC Performing Art Fund Community Music grant help the group?
The aims of the project are to improve the skills and confidence of choir members in singing unaccompanied and to increase the choir's confidence in performing.  We are also planning a community project to offer local people a 'taster' experience of singing with the choir and join in a performance in the community.  We hope that the whole Performing Arts Fund project leads to a raised profile for the choir, new audience members and new younger choir members.
3. Tell us about the best day the Glossop and District Choral Society has had to date?
Members' views on 'best day the Society has had to date' are quite personal and varied.  Many members have favourite concerts such as our performances of Verdi's Requiem, Handel's Messiah and Coronation Anthems, and a recently composed cantata by our Musical Director 'The Trees Alone Remain'.   Many members reflect on the emotional experience of singing in concerts as highlights and mention feelings such as "I was walking on air for days", "I was on cloud nine", a "tingle moment", "magical" and "exhilarating".
Perhaps it is not easy for choir members to choose a 'best day' when we all have so much enjoyment on concert days, as one of our members describes:
"Concert nights are always special for me. For weeks we practice, make mistakes, have a laugh and enjoy ourselves, but when concert day comes and we have the final rehearsal with the soloists and the orchestra I get butterflies in my stomach.  How can you beat the feeling when you are standing on stage and see the audience full of expectations, the conductor raising his hand, the music starts and we sing our hearts out?"
4. What was the best reaction from the group when they found out about winning the
PAF grant?
The bid writers were ecstatic, and the choir gave an enthusiastic round of applause when they heard the news.
5. Give us 3 words that describe a performance by Glossop and District Choral Society

Perhaps our audience can comment on this one?
Here are some quotes from audience members from some of our most recent productions:
 
"Lovely, beautiful, inspiring."
"Astonishingly consistent high quality performances."
"A wonderful, awesome evening!"
Glossop and District Choral Society are looking for new male voices to join them – especially basses.  Email them at info@glossopchoral.org.uk. Find out more on their website too.
-
Meet the Winners is a feature introducing you to some of the groups and individuals who have recently received a grant from the BBC Performing Arts Fund. We get to hear about so many fantastic projects and people who are keeping the performing arts alive in the UK, that we thought you should know about them too.