Education Practicalities: the update
We've blogged before on the rollercoaster of emotions when getting into Performing Arts schools or colleges. Obviously a huge amount of congratulations and celebrations are in order when you get that all awaited confirmation of a place! But for many there is that moment of pressure when the practicalities set it around paying for tuition fees.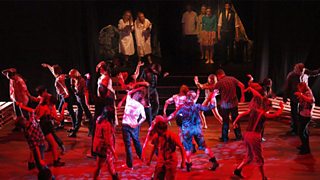 The BBC Performing Arts Fund does not award grants that cover tuition, course fees or related costs. However, we have come across some organisations that might help you on your research for securing that financial support. Follow the links below for more information.
Dance and Drama Awards: funding for students
You could get a Dance and Drama Award (DaDA) to help with fees and living costs at one of 19 private dance and drama schools.
The Fenton Arts Trust
Grants are available to support individual works, activities, performances or prizes in the fields of drama, painting, sculpture, ballet, music and poetry.
The South Square Trust
The aim of the Trust is to assist individuals wishing to study degree courses in the Fine and Applied Arts. Individual applications are open from 1st Jan to 30th April each year.
For a more general search into funding organisations, try out:
Funding Central
A search engine with access to numerous funding organisations details and other financial resources
Drama UK
A list of useful links, including organisations offering advice and charitable Trusts and Foundations
And for those who are looking to take their studies overseas may wish to have a look at:
UK Council for International Student Affairs
The UK's national advisory body serving the interests of international students
US-UK Educational Commission
The Fulbright Commission aims to foster cultural understanding through educational exchange
If you're not considering applying to a school or college this year but may do in the future, take a look at previous winner Chris Cook's blog on tips for auditioning here.