A deep area of low pressure looks set to dominate our weather late in the weekend and into next week as the official start of autumn (which is the 22nd September this year, defined as the day the sun crosses the equator into the southern hemisphere) coincides nicely with the first meteorological blast of the season.
The track of this low pressure is still open to question, and has been causing real problems for forecasters in the last few days.
It's down in part to ex-hurricane Nadine which is in the mid-Atlantic near the Azores.
Computer models invariably struggle to handle these storms because such systems are relatively small but intense, and as such can be difficult to model with any consistency.
What Nadine does in the next few hours will help determine where an associated area of low pressure will develop and track, drawing in some of Nadine's warm sub-tropical air, hence the uncertainty regarding the timing and location of potentially heavy rain and strong winds for the UK.
The chart below is the best estimate of its position at midday on Monday, based on the UK Met Office Global model.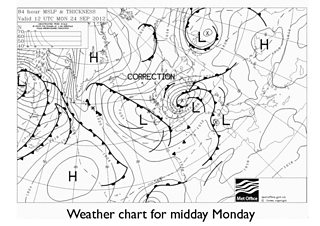 The current best estimate for our area is for the heavy rain to hold off until late Sunday, with much of next week then very unsettled, at times windy, with showers or longer spells of rain.
On a more positive note, if timings remain the same, it does mean that much of this weekend across Yorkshire and Lincolnshire will be fine and sunny, albeit cold at night with a risk of rural frost.
Follow me on twitter @Hudsonweather