On Friday BBC's My Generation stopped in the year 1989, and on 6 Music, all day, we were transported back to that year. All the info on the day is here.
So this Sunday we thought we'd do a rave playlist as this is the decade rave was born. Not only that, Danny Rampling will be in the studio talking about his career and helping us sift through your suggestions.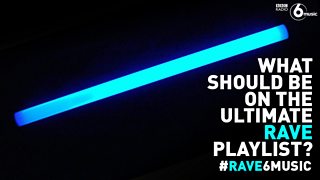 Ahhh 1989 aye, halcyon days. The game boy was released, Michael Jackson was officially named "King Of Pop", oh and the Berlin Wall came down and it was the end of the Eastern Bloc. A year of massive change and also, the decade that rave was born.
Wiki definition of rave: "The rave genre first appeared amongst the UK acid movement during the late 1980s at warehouse parties and other underground venues, as well as on UK pirate radio stations. Rave music is usually presented in a DJ mix set, although live performances are not uncommon."
It's also great to dance to, dance the night away to, sweat until you can't sweat anymore and fall in a massive heap with all your mates in the early hours of the morning. The rave genre doesn't just stop at the music – it was a lifestyle, an attitude, it pretty much invented the mentality of "living for the weekend". But, what to suggest for a rave playlist?
The classic rave music like techno, jungle, acid house, gabba, break beat – all great genres of music that you can lose yourself to.
Chill Out – the more ambient works that you may listen to after a long long night…
Rave warm up – what stuff did you/do you listen to when getting ready to go out for a rave up?
Or anything that you lose yourself to – can be a soul classic or a 90's garage banger to an 11 minute prog rock guitar solo.
This is your rave, what would you play at it?
You choose the music, so get your best rave suggestions to Tom and Danny Rampling, via the hashtag #Rave6Music to help create the playlist. Comment on the Now Playing Facebook page, here on the blog, email nowplaying@bbc.co.uk or drag tracks onto our Spotify playlist.