To mark T Shirt Day on Friday 25th Nov on 6 Music (where Steve Lamacq asks you to wear your old band t shirts to work, send a photo in, and then we play a track by the artist on your t-shirt), we are asking you create a playlist around the theme of style.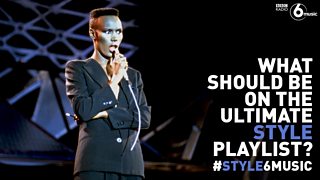 Throughout the day on Friday, from Shaun Keaveny through to the inventor of T Shirt Day himself, Steve Lamacq, listeners are asked to send in pictures of them wearing their band t shirts – then 6 Music play a song by the band on your t shirt – specific song requested by you of course.
THE DAY EVEN HAS IT'S OWN EMOJI, just search #TShirtDay on twitter. All the info is here.
So in kind of keeping with this event, we thought we would dedicate a 2 hour playlist to the theme of STYLE. It's very broad we know because you can argue that essentially, every musician and artist since the beginning of time had a style…so you can go wherever you want with this, as long as it's around the theme of style.
Bowie, Ferry, Dylan, Hendrix, Bush, Pistols, Simone, Sinatra, Strokes, Ross, Cave, Cohen…all had great style.
We are not going to list them all…
Or songs about style or fashion, like 'Baggy Trousers' by Madness, 'Dedicated Follower Of Fashion' by The Kinks or even 'Handbags And Gladrags' by Rod Stewart...
You get the idea.
You choose the music, so get your best art suggestions to Tom, via the hashtag #Style6Music to help create the playlist. Comment on the Now Playing Facebook page, here on the blog, email nowplaying@bbc.co.uk or drag tracks onto our Spotify playlist.