One half of the most influential band in history graced 6 Music with their presence this week.
Sir Paul McCartney, Ringo Starr and director Ron Howard spoke to Shaun Keaveny about the new Beatles film 'Eight Days a Week - The Touring Years'.
Using existing live film, rare and unseen footage, the producers have weaved together a picture of The Beatles as a vital force onstage. A companion album 'THE BEATLES: LIVE AT THE HOLLYWOOD BOWL' recorded in the summers of '64 and '65 coincides with the film.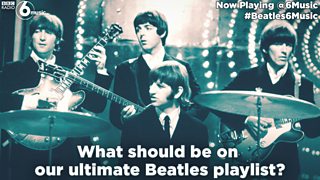 On this Sunday's Now Playing, we want to hear your favourite Beatles-inspired tracks, to create our #Beatles6music playlist. What are your favourite songs from the band, their contemporaries and artists who owe a debt to the Fab Four?
"On their cover of Roll Over Beethoven you can almost hear the rumblings of proto-punk, while She Loves You sounds almost as sweet as on record." Gwilym Mumford, The Guardian
Some bands wear their heart on their sleeve when it comes to the debt they owe the Beatles – maybe that's why you love them. There's almost no artist working with guitars today who hasn't been influenced by the band, so let your imagination go wild. Where did The Beatles lead you?
You pick the music, so get your suggestions for the best Beatles inspired tracks to Tom via the hashtag #Beatles6Music to help create the playlist. Comment on the Now Playing Facebook page, here on the blog, email nowplaying@bbc.co.uk or drag tracks onto our Spotify playlist.