Stay up late with 6Music this weekend as we celebrate the rhythm of the night…..
The first late night tube trains run this weekend, letting Londoners stay out as long as they want and offering a new lease of life for the capital's night time economy.
Revellers aren't the only ones who'll be journeying into the night this weekend though. Hello shift workers, hello new parents, hello insomniacs.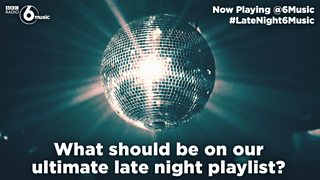 On this week's Now Playing, let's celebrate late night culture, and help us compile an after hours playlist. We'd like your suggestions for the best records you've ever heard late at night. The best songs about the midnight hour. The best music to soundtrack a sleepless moon.
Maybe your best late nights were spent at the Hacienda with the sounds of Happy Mondays, 808 State and A Guy Called Gerald. Do you favour Grace Jones' version of 'Nightclubbing' over Iggy's original?
If you remember sleepless nights with a new baby, with work to do, with sleep a distant memory, then something more soothing might have been your listening. Is there something by Sufjan Stevens that calms your soul, or are more at home with the clear sounds of the Unthanks? Share your late night stories with us, and the music that soundtracked them.
You pick the music, so get your late night inspired suggestions to Tom via the hashtag #LateNight6Music to help create a playlist. Comment on the Now Playing Facebook page, here on the blog, email nowplaying@bbc.co.uk or drag tracks onto our Spotify playlist.