HAPPY NEW YEAR. How's you head?
On Sunday January 1st Now Playing we are compiling a playlist around all those songs that give you that lift you need to get on with things. Songs that make you run up some steps in a tracksuit and punch the sky. Your up and at 'em songs. Hello 2017, good riddance 2016!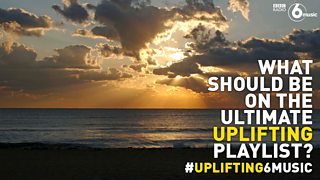 Why? Because it's the start of a new year that's why, and we're going to get you in the right mood for the brand new year. A clean slate. A fresh start (boy do we need it after last year).
So what songs make you feel lifted. What songs make you stare into the middle distance and say to yourself, "yeah, I can do this", in a really meaningful way. Maybe a slight glisten in your eye from tears of inspiration. I
s it something like Sam Cooke's 'A Change Is Gonna Come', or Don Henley's 'Boys Of Summer' or Friendly Fires 'Paris' or David Bowie 'Heroes' or Janelle Monae 'Tightrope' or Jackie Wilson (You're Love Keeps Lifting Me) 'Higher And Higher'…you get the idea.
You choose the music, so get your best uplifting song suggestions to Tom via the hashtag #Uplifting6Music to help create the playlist. Comment on the Now Playing Facebook page, here on the blog, email nowplaying@bbc.co.uk or drag tracks onto our Spotify playlist.