This Saturday Massive Attack return to their hometown Bristol to play their first gig there since 2003, so this Sunday we want your Massive Attack inspired music suggestions please.
They are a big band, and hugely influential (see below). The pioneers of the city's music scene will be playing at The Downs Festival along with Savages, Khruangbin, Primal Scream and Skepta. As well as this stellar cast, a huge line-up of Bristol DJs will also be taking over the second stage for the all-day festival. This is the first major event on The Downs for over 15 years, it's gonna be gurt lush.
Here are more details about what to expect and what not to miss on Saturday...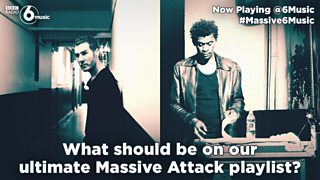 But where oh where can we go with a Massive Attack playlist...?
Well the band obviously and anything from their 5 albums, or how about anyone else on the bill at the event as mentioned above.
Fellow Bristolians from Trip Hop scene like Portishead, Tricky, The Wild Bunch (who were to become Massive Attack) or those that came later but were influenced by the genre like Gorillaz, Bjork, Radiohead, Beck.
People that have worked closely with the band, like Neneh Cherry, Horace Andy, Tracey Thorn, Sinead O'Connor…
Or get your geek out, did you know Geoff Barrow, who went on to form Portishead, was an intern and trainee tape operator at Bristol's Coach House studio when Massive Attack's debut 'Blue Lines' was recorded…fnar fnar.
There are many places you can go here…
You pick the music, so get your Massive Attack inspired suggestions to Tom via the hashtag #Massive6Music to help create a playlist. Comment on the Now Playing Facebook page, here on the blog, email nowplaying@bbc.co.uk or drag tracks onto our Spotify playlist.