What's the best support act you've ever seen?
Indie shoegazers Ride have been touted as possible openers for Oasis on their rumoured imminent reunion tour.
Despite Supersonic director Mat Whitecross suggesting the Gallagher brothers and co. are more likely to reunite when there's less pressure on them, bookies have stopped taking bets on Oasis reforming in 2017.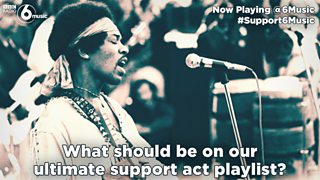 On this week's Now Playing, we want to celebrate the opening acts, the first on the bill, the warm up artists, so we'd like your suggestions for the best support bands you've ever seen.
All artists need to start somewhere, and getting a support slot on a big tour can be a breakthrough moment. But if the venue is half empty and the crowd don't care, it's not always an easy gig. A great band can turn the situation to their advantage and win a legion of new fans in the process. Florence and the Machine was exposed to a whole new audience by sharing a bill with MGMT. A little known band called Coldplay supported hot prospects Terris in the year 2000, and look what happened to them.
In 1981, Prince walked onstage to a crowd who'd come to see the Rolling Stones. On that first night, faced with an hostile audience, he lasted 15 minutes. The next night, he returned, unbowed, on his path to glory. That secured his place in a vote for the best opening act in music history, as voted for by readers of Rolling Stone magazine.
The winner of that poll? Jimi Hendrix, who in 1967 opened a series of shows for the Monkees.
So share your memories of the best support acts you've ever seen with us, to make up our #Support6music playlist. Which opening acts outshone the headliners? Which beloved bands would you have never discovered but for a support slot? Which double bills were the oddest juxtaposition of genres?
You choose the music, so get your best support band stories to Tom, via the hashtag #Support6Music to help create the playlist. Comment on the Now Playing Facebook page, here on the blog, email nowplaying@bbc.co.uk or drag tracks onto our Spotify playlist.