#Darkside - help pick the Ultimate Pink Floyd Playlist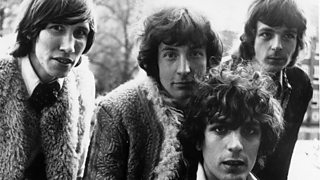 At 10pm on Bank Holiday Monday (August 26)
BBC Radio 2
will be broadcasting a landmark new play written by
Sir Tom Stoppard
to celebrate the 40th anniversary of
Dark Side of the Moon
.
Not wanting to miss out, we're joining in the fun with an
extra special Now Playing
, where we want you to help us create the
Ultimate Pink Floyd Playlist
.
Our show will simulcast on BBC Radio 2 and 6 Music from 8pm for two hours, right before
Darkside
is premiered - which boasts
Bill Nighy
and
Rufus Sewell
amongst the cast – and we need you to help us pick tunes worthy of such a prestigious playlist.
Dark Side of the Moon
has not only one of the most iconic album covers of all time, it's also a record that has helped define the band as well as the era, and has since been cited by a number of leading musicians and acts as one of their biggest influences.
So what must be included in such a playlist? Only you can decide:
You pick the music. The ways you can get in touch are by commenting on our blog or Facebook page, by Tweeting using #Darkside, adding a track to our collaborative Spotify and Rdio playlists or by emailing us at nowplaying@bbc.co.uk.

And to give you a taster of what to expect from Darkside after The Ultimate Pink Floyd Playlist wraps up, check out this amazing trailer especially created for the BBC by the Oscar-winning Aardman Animations.

Watch a special animated trail for Radio 2's Darkside drama, on-air on Bank Holiday Monday