So, you wait ages for new Radiohead material, and, like buses, several delights come along at once.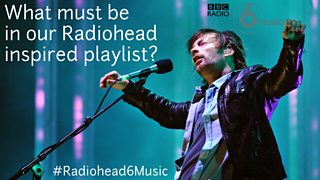 Radiohead's Thom Yorke
The online world was buzzing this week after the band released brand new material and artwork via its free PolyFauna app. It features what are thought to be snippets of new tracks woven together as an atmospheric soundscape accompanied by mysterious imagery. Thom Yorke also had been cryptically Tweeting similar images just ahead of the app content update.   
Jonny Greenwood revealed to 6 Music earlier this year that the band were heading back into the studio this September to work on the follow-up to their eighth studio album, The King of Limbs. However, rumours are now rife that the album could be closer to completion than first thought.
But no only that: this week also saw confirmation of a mystery collaboration between illusive frontman Thom Yorke and the equally illusive producer, SBTRKT. A 2012 remix of SBTRKT's debut album track 'Hold On' listed Sisi BakBak as the producer which was rumoured to have been Yorke - but only confirmed now, with Radiohead making the remix available for download via their website.
So what better excuse do we need to create a playlist inspired by one of the most experimental, independent-spirited bands of the 20th/ 21st century? And, as ever, it's over to you to decide what we play, whether:

• Classic Radiohead tracks
• B-sides or rarities
• Band members' side projects or collaborations
• Those bands they've influenced or have been influenced by
...Or any other music connection that you think demands a place in the playlist.
The show will also feature BBC archive, special guests, plus there's our latest Head 2 Head Challenge where you decide which famous Radiohead fan gets their favourite track by the band included in the playlist.
Send in your playlist suggestions – not forgetting to include your reasons for your selections – via Twitter using #Radiohead6Music, post below this blog or on the 6 Music or Now Playing Facebook pages, drag tracks onto the show's collaborative Spotify playlist or email nowplaying@bbc.co.uk