#Dylan6Music – what should be on the ultimate Bob Dylan inspired playlist?
I don't know if you heard, but in October Bob Dylan won the Nobel Prize for Literature for 'having created new poetic expressions within the great American song tradition'. Putting him in the company of Dario Fo, Toni Morrison and Samuel Beckett…in the process redefining the boundaries of literature.
This Saturday on December 10th he collects the prize at the official ceremony in Stockholm. Well, Patti Smith is; apparently Bob is too busy….
So on this Sunday's show we're doing a Bob Dylan inspired playlist. Makes sense.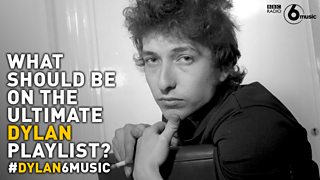 Much news coverage surrounded the Nobel Prize for literature being awarded to the 75 year old US singer songwriter poet artist, the first time it has ever been awarded to a musician. What followed brought more column inches, when he went silent for a very long time, being branded "impolite and arrogant" by a member of the academy.
Finally, two weeks after the award was announced, on 29 October, the singer phoned the academy's permanent secretary, Sara Danius, to say: "I appreciate the honour so much. The news about the Nobel prize left me speechless."
Then to top it off, he's not attending the ceremony this Saturday. Instead, Patti Smith is stepping in to perform one of his best know tracks, and read out a speech written by him.
What a diva.
Anyway what to suggest for a playlist around a man considered one of the most influential figures of the 20th Century, both musically and culturally… well we could play 2 hours of Bob Dylan, we don't mind. Anything from his 37 albums. Have you seen him live on his so called 'Never Ending Tour'? If so, what was that like and what song stood out for you?
Were you there when he 'went electric'?
Influencers: Little Richard and the songwriting of Woody Guthrie, Robert Johnson, and Hank Williams.
Those he influenced: everyone; Patti Smith, David Bowie, Johnny Cash, John Lennon, Bruce Springsteen, Neil Young…not going to list them all.
You choose the music, so get your best Bob Dylan suggestions to Tom via the hashtag #Dylan6Music to help create the playlist. Comment on the Now Playing Facebook page, here on the blog, email nowplaying@bbc.co.uk or drag tracks onto our Spotify playlist.