On Now Playing this Sunday we have the world exclusive first play of an excerpt from Kate Bush's forthcoming live album.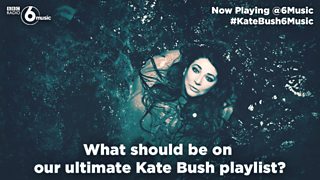 Before The Dawn' features songs recorded live during Kate's run of 22 sold out shows in 2014 at London's Hammersmith Apollo. It was the first time the singer had performed live since her 1979 'Tour of Life' which culminated at the same venue, then called Hammersmith Odeon.
The first night of the shows prompted a complete media frenzy with the Evening Standard declaring that the show was "an extraordinary mix of magical ideas, stunning visuals, attention to detail and remarkable music – she was so obviously, so unambiguously brilliant, it made last night something to tell the grandchildren about."
But we are not only playing some exclusive stuff, we want your Kate Bush related suggestions as well, which means…
Anything from Kate Bush's 10 studio album's or one of her 25 top 40 charting singles? I mean, would could just play loads of KB could't we?
Those she has influenced: Tori Amos, Alison Goldfrapp, Bat For Lashes, Coldplay, Erasure, Wild Beasts…
What influenced her? Glam rock, folk music & classical music influenced Bush greatly along with bands like Roxy Music and Peter Gabriel, whom she later collaborated with. Bush is also heavily influenced by literature – Wuthering Heights (obvs), while "Cloudbusting" was inspired by Peter Reich's autobiography, for example..
What about fellow artists who have topped the singles chart as a teenager? Kate Bush's debut single 'Wuthering Height's' was released when she was just 19...
You choose the music, so get your best art suggestions to Tom, via the hashtag #KateBush6Music to help create the playlist. Comment on the Now Playing Facebook page, here on the blog, email nowplaying@bbc.co.uk or drag tracks onto our Spotify playlist.