What does space sound like?
If Jack White achieves his ambition to play a record outside of Earth's atmosphere, space will sound a bit like… well Carl Sagan actually.
White's label Third Man Records announced this week they have built a "space-proof" turntable called The ICARUS CRAFT. On July 30th they attempt to play the first phonographic record in space — a gold-plated 12" master of Carl Sagan's "A Glorious Dawn".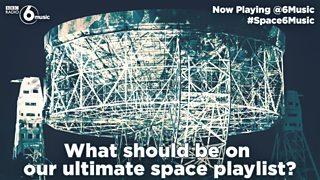 Speaking of Sagan, the inaugural bluedot festival brought 15,000 people to the Jodrell Bank Observatory last weekend. In 1994, NASA scientist and broadcaster Carl Sagan gave a speech in which he coined the phrase 'pale blue dot' to refer to our home planet.
In the glow of the Lovell Telescope, illuminated by an original lightshow from Brian Eno, was an intergalactic festival of music, science, arts, culture and the exploration of space.
So on this week's Now Playing, we want to explore the sounds of the universe, and compile a playlist of your space-related suggestions.
Maybe we should start with 'Hello Moon Can You Hear Me?' - a remix of sounds from space by producers Jim Spencer and David Tolan working in collaboration with Jodrell Bank's Tim O'Brien. The track includes signals from spacecraft at the dawn of the space age, the death throes of an exploding star and the sounds which flooded through the Universe after the Big Bang.
Perhaps there's a track that sounds like it came from outer space, from AURORA to Zappa. Sun Ra's Space Is The Place? Or maybe you're more of a Jesus and Mary Chain fan, and fancy hearing 'Lost Star'.
You choose the music, so get your recommendations for tracks that are out of this world, to Tom via the hashtag #Space6Music and help build the playlist. Comment on the Now Playing Facebook page, here on the blog, email nowplaying@bbc.co.uk or drag tracks onto our Spotify playlist.