#HipHop6Music - help pick the Ultimate Hip Hop Playlist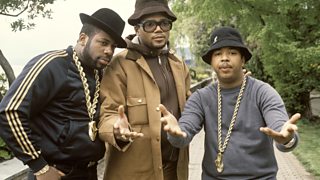 During
#DaftPunk6Music
in the studio next to ours, the one and only
Grandmaster Flash
was recording an 6 Mix which will launch Pioneers Month through May on that show – and Tom was so taken aback by this man's presence we thought why not ask you to create the Ultimate Hip Hop Playlist.
Starting with Grandmaster Flash and working your way through the Bronx and the rest of New York in the late 1970s and 1980s across to the West Coast this is your opportunity to salute your favourite lyricists, beat makers and everyone else who has inspired or learnt from this revolutionary music.
In the Ultimate Old School Hip Hop Playlist you could go for:
• Your favourite rappers from
Public Enemy
to
Run DMC
,
De La Soul
or
Nas
• Stuff from those behind the beats like
Afrika Bambaataa
and
DJ Premier

• Contemporary artists like
Kendrick Lamar
,
A-Trak
,
Jay-Z
or
Kanye West

• How about other genres and artists with a strong social message – the
Sex Pistols
through to
Plan B
• Or the roots of hip-hop – great poets like
Gil Scott-Heron
, disco and reggae
You choose the music so let us know what you want us to play by commenting on
Facebook
or here on the blog, Tweet
#HipHop6Music
email us at nowplaying@bbc.co.uk or add a track onto our
collaborative Spotify playlist
.