It's Carnival weekend! A celebration of the capital's Caribbean communities; their cultures and traditions, which has been taking place since 1964.
This weekend Notting Hill, Ladbroke Grove and Westbourne Park in London get taken over for two days; hundreds of people descend on these parts of London to drink, eat and dance in the streets to the varied and very loud sound systems; live music from reggae to dub to salsa to ska; soca floats & steel bands or just to the music being blasted out of single speakers in people's front gardens.
Add to this it's also Pride weekend, Leeds Carnival not to mention carnival's in Nottingham, Scotland, Manchester and Leicester, all in August.
Plus there's a load of carnival inspired programmes across the weekend on 6 Music, all the info is right here.
So with all this, we thought we'd hand the 2 hours over to you guys to create the ultimate sound system playlist.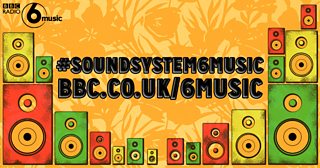 So it's over to you, where would you go for your fix of music at a carnival – whether it's reggae dons Channel One, who have had the same spot at Notting Hill Carnival since 1979! Or The Disco Hustlers, who play, well yes, Disco. Or maybe you fancy some Rock n Roll so you head over to Gaz's Rockin Blues soundsytem, maybe you want to really lose yourself, and head to Rapattack – who play everything from '70s funk jams to '90s house classics, right up to new R&B and hip hop bangers.
Or your more of a steel pan, Calypso or Soca person? What get's you moving?
This is your sound system, what carnival music do you want to hear on it?
You pick the music, so get your sound system inspired suggestions to Tom via the hashtag #SoundSystem6Music to help create a playlist. Comment on the Now Playing Facebook page, here on the blog, email nowplaying@bbc.co.uk or drag tracks onto our Spotify playlist.