"Before punk there wasn't really any female role models that inspired me…" Pauline Murray, Penetration
This Sunday on Now Playing we celebrate the legacy of women in punk, ahead of BBC Radio 6 Music's My Generation 70s series.
Chrissie Hynde brought The Pretenders to 6 Music Live this week, a generation after the band's formation. Born out of the British post-punk era of the late 1970s, by the time Michael Putland took this photo for the New Musical News in 1980, each of the women alongside Hynde had established themselves as queen of their scene.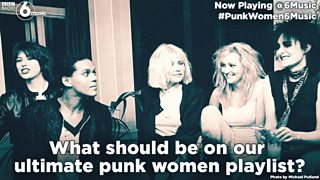 Photo: Chrissie Hynde (Pretenders), Pauline Black (The Selecter), Deborah Harry (Blondie), Viv Albertine (The Slits), Siouxsie Sioux (Siouxsie and the Banshees). London, August 1980. Photo by Michael Putland for the New Musical News.
In the years Before Punk, bands like Led Zeppelin towered over mere mortals like gods – otherworldly and untouchable. In the years BP, women with any agency like Aretha Franklin or Janis Joplin were few and far between.
In the years After Punk, self expression was democratised. Anyone could start a band. EVEN THE GIRLS. It wasn't always easy - Viv Albertine reveals the threats she and fellow Slits members received on the street at the time, in her autobiography. The rules had changed – there were no rules.
In the years AP, the idea that you could express dissatisfaction with the world around you became the defining characteristic of punk, and its greatest legacy.
So we want your help in celebrating the punkest women in music from the past 40 years. "We were living in Co. Durham where there was absolutely nothing going on, and my idea of punk was that you were expressing the environment that you lived in" Pauline Murray, Penetration.
We invited Pauline Murray (Penetration, Invisible Girls) to curate the first 30 minutes of music for our #PunkWomen6music playlist. She'll be sharing the tracks that set the stage for women like her. Then we hand the show over to you, so tell us what we need to play and why. We want to hear why you love bands like The Adverts, The Raincoats, The Slits, The Rezillos, ESG, Bikini Kill, Jayne County, Yo Majesty, Kate Tempest, Maria and the Mirrors and everyone in between.
You pick the music, so get your suggestions for the tracks which epitomise punk women to Tom via the hashtag #PunkWomen6Music to help create the playlist. Comment on the Now Playing Facebook page, here on the blog, email nowplaying@bbc.co.uk or drag tracks onto our Spotify playlist.