#Folk6Music - help pick the Ultimate Folk Playlist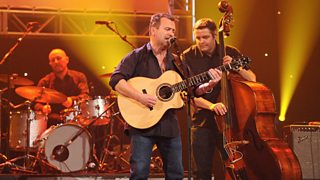 The English Folk Dance and Song Society (EFDSS) have launched a huge online portal of manuscripts and archive from the collections of Frank Sidgwick,
Cecil Sharp
,
Ralph Vaughan Williams
and many others - so we thought why not join in with this celebration of the music by asking you to pick the Ultimate Folk Playlist.
You can rummage through all 58,400 of the items – the largest collection in the world – and rediscover some hidden gems in the form of manuscripts, letters and song sheets. An indeed that's exactly what folk singer
Fay Hield
did, who along with a team of musicians including former
Mercury Prize
nominee
Seth Lakeman
and
Radio 2 Folk Award
winner
Martin Simpson
, have recreated some of the tracks which had previously been lost to history.
The result is The Full English – 12-tracks recreated from the archive and recorded to create an album which was release on Monday, which will be toured around England for a fortnight from October 19.
So with all this revived archive, added to everything we already know and love, what do you think must be included in the Ultimate Folk Playlist?
• Some of your favourite contemporary folk artists like Seth Lakeman,
Eliza Carthy
,
Frank Turner
or the all-conquering
Mumford and Sons
• The sub-genres which have emerged and their artists such as Punk Folk and
Billy Bragg
,
Beth Orton's
'folktronica' or
Fairport Convention
who use rock instrumentation with a folk ethos
• Why not go back and ask for the sorts of compositions created by Ralph Vaughan Williams or
George Butterworth
• How about artists who've been inspired by the ideas of storytelling in their work –
Arctic Monkeys
or
The Streets
for instance?
• Or, for real brownie points, why don't you investigate the archive yourself and record some of the bits you find?
You pick the music, so let us know what you want to hear by leaving a comment here or on our
Facebook page
, Tweet
#Folk6Music
, send us an email with your suggestion and reason to nowplaying@bbc.co.uk and add tracks to our collaborative
Spotify
or
Rdio
playlists.
Seth Lakeman explains how he used the EFDSS' digital archive to rediscover lost songs