Is your child a mini rocker or an indie kid?
Then be sure to tune in to Now Playing this Sunday 2nd October as we celebrate grown-up songs that are a hit with the kids.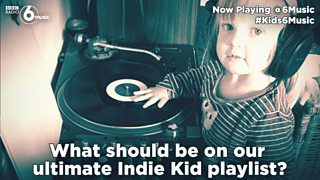 Music for children has come a long way since Disney soundtracks and nursery rhymes. Karen O composed the music for the big-screen, live-action version of Maurice Sendak's classic Where the Wild Things Are in 2009. The result? A collection of sweetly bewitching songs featuring the talents of YYY's bandmates Brian Chase and Nick Zinner, Bradford Cox (Deerhunter), Dean Fertita (Queens of the Stone Age) and more to charm irrespective of age.
"I guess there is a childlike innocence about my music" - Karen O
Two stalwarts of the US indie scene debuted a new track this week. Fiona Apple joined Andrew Bird (formerly of Squirrel Nut Zippers) in a live performance of "Railroad Sam and Slingshot Sue". The song was written in collaboration with a 5-year-old named Sam, as the pair explain in the newest edition of acoustic series "Live From the Great Room".
Meanwhile, actors have won a landmark legal battle to stop people finding out their darkest secret – their real age. Legislation was passed in California that lets actors remove their age from sites like IMDb, so they can stay forever young.
So for this week's Now Playing, we'd like your help to compile a playlist of tracks for your inner child, songs that your kids love or respond to and songs that you loved as a child.
But this is 6Music, so we're looking for grown up sounds that appeal to little ones, with an alternative spirit. Is your progeny the biggest Bon Iver fan in primary school? Do you still cherish the first vinyl you bought with saved-up pocket money?
We're not talking nursery rhymes, but those special songs that seem to speak across the generations. Songs embodying a certain childlike innocence, like They Might Be Giants' 'Birdhouse in Your Soul' or Flaming Lips' 'Yoshimi Battles The Pink Robots'
You pick the music, so get your suggestions for the songs you and your children equally adore, to Tom via the hashtag #Kids6Music to help create the playlist. Comment on the Now Playing Facebook page, here on the blog, email nowplaying@bbc.co.uk or drag tracks onto our Spotify playlist.