"The dark nights are drawing in" The Smiths, Miserable Lie
Summer bid a fond farewell this week with the Autumn equinox and so began the start of a new season.
Equinox means "equal night" in Latin. On 22 September day and night were exactly 12 hours apiece.
On this week's Now Playing we'd like your help to soundtrack the season of mists and mellow fruitfulness and build our #Autumn6music playlist.
Lauren Laverne has been Back To School this September with lessons in Art, Science and Double Maths.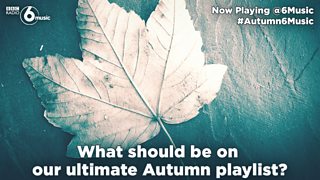 If the prospect of the long, dark months ahead fills you with dread, remember that autumn also brings with it the promise of log fires, russet leaves and crystal clear evening skies. The perfect backdrop to a soundtrack of reflective music by your favourite 6 Music artists.
So curl up on the sofa and share with us your favourite seasonal songs which capture the essence of autumn for you.
Perhaps you'd like to hear Joanna Newsom's delicately atmospheric 'Autumn' or Big Star's vintage 'September Gurls'. Or anything by The Fall.
You pick the music, so get your autumn inspired tracks to Tom via the hashtag #Autumn6Music to help create the playlist. Comment on the Now Playing Facebook page, here on the blog, email nowplaying@bbc.co.uk or drag tracks onto our Spotify playlist.