In 1976, Geoff Travis started a shop that would change the face of music in the UK. On Sunday, Now Playing @ 6 Music celebrates the independent spirit of Rough Trade 40 years on.
To help us with this none other than founding father of Rough Trade, Geoff Travis AND co-owner Jeannette Lee will be joining us live in the studio, sharing stories of the shop, label and influence on UK culture of the last 40 years.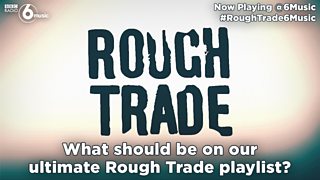 "Record shops bred music, they bred fans, they bred labels... from Warp to Rhino, they were where everything started, and still are" Martin Mills, chairman of Beggars group.
Starting out life as a record store in West London, Rough Trade grew into a separate label headed up by Travis who was joined in 1987 by Jeannette Lee. Now, the label has one of the finest rosters of talent of any indie in the UK. The shops host countless in-store gigs every day and Rough Trade Magazine is the only place where Jonathan Richman can solve your problems. Then there's the annual Counter Culture compilation series which has been championing Rough Trade artists from obscurity since 2002.
A concert to celebrate the best of the label this weekend pairs three artists from the early years with three adventurous counterparts from more recent history. John Grant's collaboration with Wrangler (feat Stephen Mallinder) explores the connections between Grant's brooding ballads and Wrangler's dark-edged electronica. Scritti Politti bring their art-pop influence to bear on the future-dance of Hot Chip's Alexis Taylor. The Pop Group experiment with a post punk aesthetic they share with Protomartyr.
The label has released music from so many seminal bands that there's an embarrassment of riches for you to choose from to make our #RoughTrade6music playlist. So as well as telling us what track you'd like to hear, share your reason why, and your memories of the original shop in Kensington Park Road.
Young Marble Giants, The Raincoats, Delta 5, Weekend, Robert Wyatt, Aztec Camera, The Smiths, Camper Van Beethoven, The Strokes, The Libertines, Boris and Vivian Girls. Rough Trade released them all, and much much more.
You choose the music, so get your suggestions for the best of Rough Trade releases to Tom via the hashtag #RoughTrade6Music to help create the playlist. Comment on the Now Playing Facebook page, here on the blog, email nowplaying@bbc.co.uk or drag tracks onto our Spotify playlist.