"Every object have a shadow, you have to find the shadow. Every song could be dub, you have to find the dub. It's a simple as that" Mad Professor.
On Now Playing this Sunday, Mad Professor, Dennis Bovell and Sly & Robbie join Tom to trace the story of dub from the 70s on. After punk, dub is the biggest sound to have come out of the decade, so to mark the end of BBC Radio 6 Music's My Generation 70s season, it's time for dub to take a bow.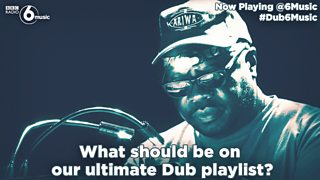 Heavy bass-led soundsystems were bouncing round Jamaica from the mid-20th century. When R&B started to dry up, enterprising operators started making their own music.
Legend has it that dub was created when Ruddy Redwood, operator of the Supreme Ruler of Sound system (SRS) went to Treasure Island studios to run off some exclusive tracks on acetate, but the engineer forgot to put the voice in the mix. These acetates were known in soundsystem culture as dub plates. And dub was born.
That's how reggae producer Bunny Lee tells it, in the definitive documentary Dub Echoes. Out of this scene emerged pioneers like Sly & Robbie and the Firehouse Crew, rhythm creators who made Channel 1 a destination for deep bass.
Meanwhile, King Tubby was experimenting with studio electronics and sound in his electrical repair shop in Kingston. Central to the mix was the Roland RE-201 Space Echo, a combination tape echo and reverb introduced in 1974. Originally used by 60's beat groups like The Shadows, it's been used since by bands from Radiohead to The Orb, Portishead and Jean Michel Jarre.
"That bass drum is a living being" Lee 'Scratch' Perry
So many genres owe their origins to dub pioneers, and we want to hear them all on this Sunday's Now Playing. From drum 'n' bass, to dubstep, from The Slits to Massive Attack, dance music as we know it would be nothing without dub at it's core.
Tune in on Sunday at 6pm to find out how 70s dub had a progressive and lasting effect on the British music scene, and share your favourite dub-inspired tracks with us to make up our #Dub6music playlist.
You choose the music, so get your track suggestions and stories to Tom via the hashtag #Dub6Music to help create the playlist. Comment on the Now Playing Facebook page, here on the blog, email nowplaying@bbc.co.uk or drag tracks onto our Spotify playlist.