On 10 / 11 August 1996, the biggest band in Britain staged two homecoming gigs which were to go down in history.
Knebworth was a venue that had long been associated with the biggest acts in rock history; Queen, Led Zeppelin and the Rolling Stones had all played there to massive crowds.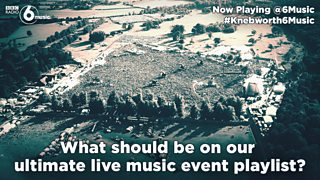 Enter, Oasis. The Gallagher brothers had already placed themselves as the true bearers of the flame, and their plan was for nothing less than world domination.
They hired the biggest PA, the biggest video screens, and reportedly sold over 250,000 tickets for 2 consecutive performances. This moment could be seen as the last great Britpop performance; nothing after would match its scale.
So let's go back to that weekend twenty years ago to create a #Knebworth6music playlist. What would you like to hear in our celebration of this momentous moment in live music? Maybe you were blown away by one of the support bands - Prodigy, Ocean Colour Scene, Charlatans and Manic Street Preachers all played their part.
We're not just talking about one weekend though, this Sunday's Now Playing is all about the biggest live music event you ever had the privilege of being part of. If you think there's a live music moment from the last sixty years that's bigger than Oasis at Knebworth, let's hear it.
Have you still got your tickets from the gig? Or an amazing story about meeting your best friend in the queue? We want your stories, ticket stubs, photos and memories of Knebworth and more.
You pick the music, so get your suggestions to Tom via the hashtag #Knebworth6Music and help build the playlist. Share your memorabilia and memories on the Now Playing Facebook page, here on the blog, email nowplaying@bbc.co.uk or drag tracks onto our Spotify playlist.