You want it darker? It just got darker.
On Friday morning Canadian singer, songwriter and poet Leonard Cohen passed away at the age of 82.
This Sunday we curate a playlist around the great man, what should be on it?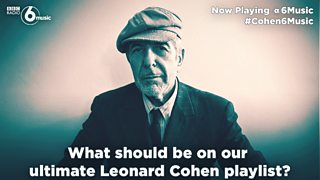 The news was announced on his official Facebook page on Friday morning (GMT).
"It is with profound sorrow we report that legendary poet, songwriter and artist, Leonard Cohen has passed away," the statement said.
Canadian Prime Minister Justin Trudeau led tributes to the singer, who was known for hits including Hallelujah and Dance Me to the End of Love. "It is with deep sorrow that I learned today of the death of the legendary Leonard Cohen,"
Mr Trudeau said in a statement. "He will be fondly remembered for his gruff vocals, his self-deprecating humour and the haunting lyrics that made his songs the perennial favourite of so many generations."
Tributes poured in online from all corners of the entertainment world:
Russell Crowe: 'Dear Leonard Cohen, thanks for the quiet nights, the reflection, the perspective, the wry smiles and the truth"
Boy George: "We have lost a great artist, poet and poignant force of energy. R.I.P. Leonard Cohen"
Bette Midler: "Leonard Cohen has died. Another magical voice stilled"
The world once again is in mourning. What a week. What a year. What should be on the ultimate Leonard Cohen playlist?
The singer's hits including Suzanne, Bird on the Wire and I'm Your Man or everything from his 14 studio albums.
Those he influenced: Nick Cave, Suzanne Vega, Nirvana, Rufus Wainwright or those that have covered his music like REM, Regina Spektor, Willie Nelson, Johnny Cash…
Contemporaries of the 60's folk circuit when he was touring his poetry with Bob Dylan, Joan Baez & Joni Mitchel.
What influenced him, in his own words: "Every time I turn on the radio, I hear something good. Every time I pick up a magazine, I read some writing that is distinguished. My pace and viewpoint is being influenced continually by things I come across. You recapitulate the whole movement of your own culture. Occasionally we are touched by certain elaborate language, like the language we associate with the Elizabethan period, with the King James translation of The Bible, or Shakespeare. In certain moments you are influenced by very simple things. The instructions on a cereal package have a magnificent clarity. You're touched by the writing in National Geographic — it represents a certain kind of accomplishment"
Or we could just play 2 hours of Leonard Cohen, just saying.
You choose the music, so get your best art suggestions to Tom, via the hashtag #Cohen6Music to help create the playlist. Comment on the Now Playing Facebook page, here on the blog, email nowplaying@bbc.co.uk or drag tracks onto our Spotify playlist.