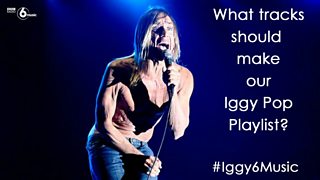 In honour of none-other-than Iggy Pop joining 6 Music's presenter roster, Tom Robinson invites 6 Music listeners to create a special playlist celebrating the life and work of this inimitable music icon.
As Iggy commented on his official twitter feed @IggyPop after Jarvis announced the news on BBC 6 Music: "A great intro by Jarvis Cocker. You'll be hearing more of Iggy on the @BBC6Music #iggypop #radioshow". He's excited, we're very excited. We definitely won't be chairman of the bored listening to him.. ahem.
We don't need reminding you that the man born James Osterberg is credited as one of the inventors of punk rock via his band The Stooges as well as providing the inspiration for helping kick-start Bowie's career. Add to that his mesmerising (mostly bare-chested) live performances and Mr Pop is among a hallowed few who truly deserve the moniker of "music legend."
Sooooo what on earth can you suggest for an Iggy Pop-inspired playlist? Well, how about:
These are simply a poker to stoke your thought fire: any other weird and wonderful song suggestions are welcome. 
Get your choices to us using #Iggy6Music on twitter, comment under this post or on our Facebook page, email nowplaying@bbc.co.uk, or drag tracks onto our Spotify and Rdio playlists. But remember to include a reason WHY you are suggesting a particular track.