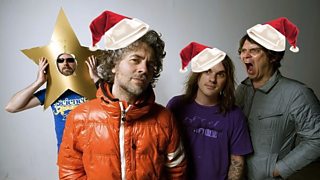 Christmas, wonderful Christmas. Christmas, which begins in November when the shops start playing festive music… But some songs seem to get all the airtime (we're looking at you, Wham!). So forget the cheesy, mainstream seasonal tunes, we want you to help us create the Ultimate Alternative Christmas Playlist.
The Flaming Lips, Julian Casablancas, The Killers, R.E.M., Sufjan Stevens, The Smashing Pumpkins and even The Fall are among those who have recorded their own musical festive offerings. So tell what you'd like to hear...
Here's a few seasonal ideas to explore:
It could simply be a track from one of the artists listed above - we've basically done the work for you there...
Whilst we're on the subject of The Flaming Lips, what about something from the soundtrack of their 2008 film Christmas On Mars?
How about a track with a spurious Christmas lyric? Maybe something like The Mamas & the Papas - For The Love Of Ivy...
Or any other tracks which remind you of Christmas - let us know the story behind it and we may just play it!
There are loads of ways you can get involved: tweet using #Christmas6Music, comment on Facebook or this blog, or add your suggested tracks to our collaborative Spotify and Rdio playlists.