#Blog6Music - Future Classic label manager Ed Sholl on why blogging is so important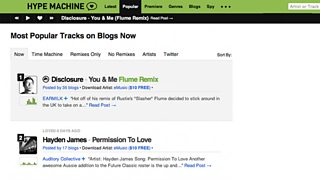 Ahead of our very special
Half-Year Music Blog Zeitgeist
in collaboration with
Hype Machine
we caught up with Ed Sholl - one of the main men behind Australian independent music label
Future Classic
whose music always seem to get lapped up by blogs across the world.
In the past year they've released tracks from the likes of
Flight Facilities
,
Mitzi
and 
Jagwar Ma
 - and in fact a couple of weeks ago their artists,
Flume
and
Hayden James
, occupied the top two spots in
Hype Machine's
'popular chart' - in other words they were the two most loved songs at that moment in the world in the eyes of bloggers and visitors to Hype Machine.
He told us how as a label they work with blogs, and the significance they hold in the modern music industry.
Remember, this Sunday we will be exclusively counting down the 20-most blogged artists in the world of 2013 from 6pm. So to warm you up, as well as listening to Ed below, you can check out right now who some of our favourite bloggers have picked as the
most under-hyped artists of 2013 so far
 - or see who made the
Top 25 this time last year
.
Ed Sholl talks about the importance of blogs in the music industry today