It has come to our attention that some of you are using a new version of Soundcloud. If this is the case and you cannot 'add/remove people' to access, please skip this step and just copy the 'secret link' for your form.
As we're using a different method of entry this year, we thought it might be useful to create a bit of a walkthrough for uploading your entry to Soundcloud.
So, once you're logged in, click the grey 'upload and share' button in the top left of your screen (or 'dashboard').
You'll be taken to the upload page: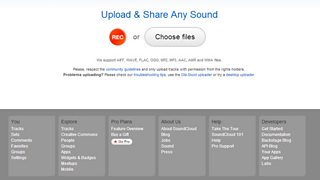 Click 'choose files' and select your audio entry from your files.
Once your audio has begun uploading, you can add a title to your entry. You'll also need to change a couple of settings before you save it.
First, look at the advanced settings at the bottom of the screen and click on the red cross in the 'Downloads disabled' box on the left. This will become a tick that says 'Downloads enabled' (see below).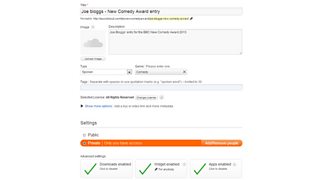 Next, you need to make the track private (see above) by selecting the option. After this, click 'Add/Remove people' to bring up the following screen: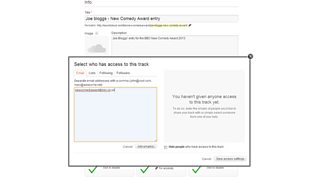 Type in 'newcomedyaward@bbc.co.uk' in order to give us access to your audio entry.
Once you're happy with your entry, click save and, provided your entry is uploaded and transcoded, you'll go to the player screen. Click the share button to reveal the URL to your audio entry and copy this - you'll need to paste this into the entry form. Please note that you must copy the link this way - it creates a 'pin' that we can access the file with. If you copy the link from your browser bar, we will not be able to access it.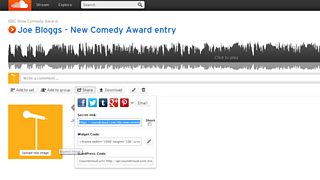 Good luck with your entries - if you have any trouble with the form or uploading to Soundcloud, please tweet your questions to @BBCNewComAward