Creating winter beauty in frozen bubbles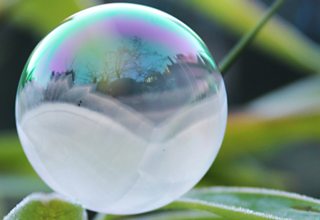 Credit: Hannahbella Nel
Hi, I am Hannahbella, I am a Bristol based photographer. I have many interests, but my my main passion lays with nature photography and astrophotography.
I made my first ice bubbles a couple of years ago and every winter since I eagerly await the first frost. And then make a hot drink and head out into the garden smiling to myself about what on earth the neighbours must think as I lay on the ground and blow bubbles into the frost covered lawn, creating little spheres of changing colours, slowly swirling into beautifully delicate frozen pieces of icy lace-like art!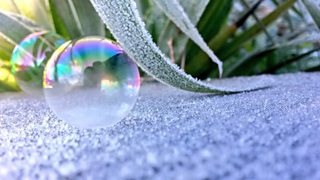 Credit: Hannahbella Nel
I have been playing around with various mixtures and making a right mess in my kitchen mixing soaps and water, sunflower oil and pva glues! I have now settled on a great homemade mixture (2parts washing up liquid, one part pva glue, half and part sunflower oil and one part water.)
What you will need:
A cup of tea or hot drink for when you come back inside! Warm, layered clothes.
A temperature of -2'C (or below) I have managed very thin frozen bubbles at 0'C, but not the beautiful jack frost ones.
A sheltered spot or wind free day
Bubble mix and wand!
Double check the wind direction - you do not want that slime on your lens.
A camping rollmat so you can lay on the ground, and get as close as possible - you want your reflection to be in the lower half of the bubble so it won't show in the bubble (though it does make a unique selfie!) and shooting up at a bubble on a leaf is a good way to avoid this too, depending on how sheltered you are
Long, slow, cool breathe and great patience! Be as close to where you want the bubble to land as possible, and pay attention to wind direction and when it stops you blow!
A camera!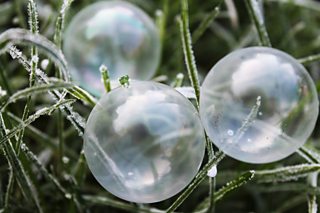 Credit: Hannahbella Nel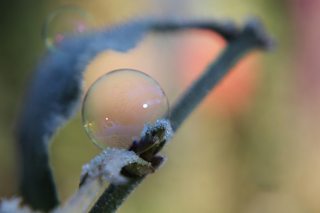 Credit: Hannahbella Nel
I use a Canon EOS 1100D, sometime with macro lens attachment (+10), on my standard 18-55mm lens. I have also shot them on my phone. I don't use a tripod, as i am often laying on the ground, and jiggling the mixture and wand and camera often has proven I need more arms, but I have been happy with the results. I find making the frozen bubbles really relaxing, blowing bubbles is a pleasurable thing to do anyway, but to then watch them freeze in front of you is beautiful, and being able to capture those moments is quite special. No two bubbles are the same. Give it a go, I would love to see your results.
Depending on your conditions, and what time of day you make your bubbles, they can last to be a couple of days old, this one is two days old and this is the same one the morning after. It's beautiful how you get frost settling on a half popped frozen Bubble.
To see more of my photography, you can visit my Flickr and Facebook pages.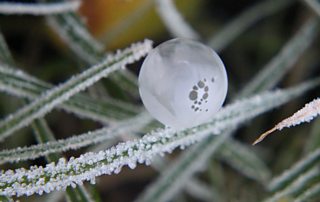 Credit: Hannahbella Nel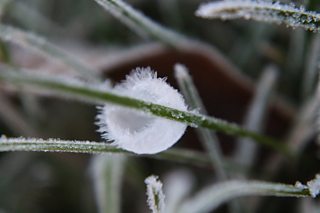 Credit: Hannahbella Nel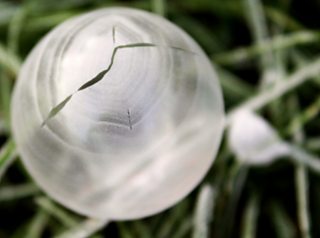 Credit: Hannahbella Nel