Citizen Science: What's it all about?
This guest blog was written by Sarah West, and looks at the ever evolving world of citizen science. Sarah West is a researcher at the Stockholm Environment Institute at the University of York. She has been designing and running citizen science projects since 2008, and does research into the people involved in citizen science.
You may have heard the term 'citizen science' over the past couple of years. Basically this is where volunteers and scientists work together to answer scientific questions. Over the past decade or so, the number of citizen science projects has boomed, partly as a result of the increasing availability of new technologies, but it's nothing new. In fact, as many Springwatch fans will be aware, so-called 'amateur naturalists' in the UK have been collecting data about the world about them for centuries, much of which gets used in scientific research. Records collected by naturalists about what species have been seen where, when and by whom, are really useful for looking at species distributions across the UK, how these are changing over time, migration patterns etc. Much of our knowledge about how species and habitats are responding to climate change, for example, involves using these records.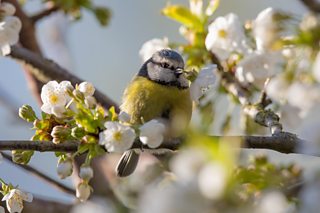 Cherry Blossom is recorded annually by amateur naturalists. Credit: Scyrene.
Records about natural events are also used in other parts of the world, for example, in Japan, court records have been kept dating back to the 11th century about the flowering times of cherry trees. These records were kept because festivals were, and in some places still are, held to celebrate the cherry flowering. This has allowed scientists to look back over time to see if there has been any shift in the date at which cherry trees flower. They have found that from the 1830s onwards, flowering time of cherries has become progressively earlier, which they have shown is related to warming temperatures (for more information on this work see http://people.bu.edu/primack/primack_higuchi_cherries.pdf). These examples show the benefits for science of citizen science, and there are plenty more out there.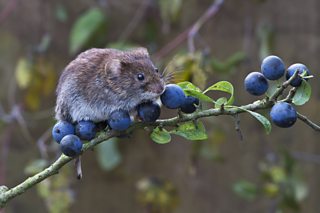 Sloe berries are a sign of the arrival of autumn. Credit: Phil Winter.
There are many different types of citizen science project, covering a whole range of fields from astronomy (the most well-known project is probably Galaxy Zoo), public health, air pollution, weather, and of course the natural world. UK examples of citizen science projects include the RSPB Big Garden Birdwatch, the Woodland Trust's Nature's Calendar (where you can record the timing of spring events such as budburst, first flowering etc, and autumn events such as the appearance of sloes), the OPAL project surveys (looking at issues such as water and air quality, tree health, and earthworm distributions), and there are also smaller projects such as the Moors for the Future Partnership's Community Science Project looking at how species and habitats in the Peak District National Park are responding to climate change. All these projects have one thing in common: the data is used to better understand the world around us.
But why do people give up their time to get involved in citizen science? This is a really important question, because none of these projects would be successful without the hours of time and effort that volunteers put into collecting data. I've been doing some work recently to look at people's motivations for getting involved in environmental citizen science projects, funded by Defra. We've found that people have multiple reasons why they participate in citizen science projects, the most common of which are wanting to help wildlife and to contribute to scientific knowledge. Many people also wanted to take part because they thought it was a valuable thing to do. Motivations such as wanting to learn something new, help future careers and enhance personal development were also important for some people. Other people wanted to take part in projects in order to help a specific site, perhaps to find out what wildlife lives on an area of land near their house. For many people, once they get involved in a citizen science project, they keep coming back because of the opportunity the project provides for meeting like-minded people, even if that is only online!
Have you taken part in a citizen science project? It would be great to hear why you got involved, and what made you continue your involvement. Or, if you only took part once, why did you stop? Please leave your comments below.