By Lorna Bointon, BDMLR Marine Mammal Medic, Sea Watch Foundation Regional Coordinator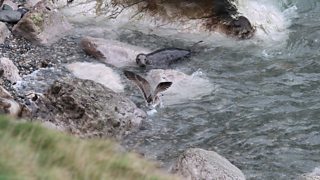 © R. Bointon Watch the birdie!
At British Divers Marine Life Rescue (BDMLR) we rely on people keeping their eyes peeled when visiting beaches and contacting us with sightings of sick or injured marine mammals, such as seals or cetaceans. But this should be done responsibly. Do enjoy watching these fabulous marine mammals, but do remember to keep your distance, keep your dog on a lead, and avoid eye contact
Two seal species reside in the UK – the grey seal and the common harbour seal. Common harbour seals can swim as soon as they are born but grey seal pups remain on dry land before being weaned at around 3 weeks old,.
The grey seal breeding season is between September and December whilst the common harbour seal breeding season is fast approaching (although this year some reports indicate a premature start to the season).
Threats and disturbance
One of the biggest threats to our seals is during the breeding and pupping season.
Disturbance can sometimes be well intentioned. Concerned observers may assume that a seal pup is injured, sick or abandoned, particularly when they are left for long periods of time whilst their mother goes off to feed. But be aware - human disturbance may lead to a mother abandoning her pup.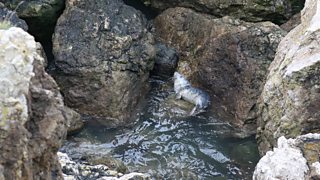 © R. Bointon Grey seal pup
© R. Bointon Breeding seals are vulnerable to disturbance
Seals are also vulnerable to disturbance during moulting season when they haul out in large numbers to moult and grow a new coat. During this time they may face disturbance from people, pets and boating activity.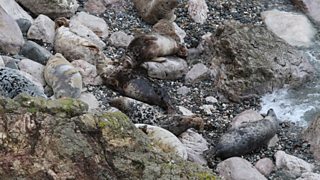 © R. Bointon Spot the seal - Grey seals are excellent at masquerading as rocks!
Seals also face threats from plastic waste, pollution and entanglement with discarded fishing gear that can result in injury and death. This is why keeping our seas clean is vital for the health of our marine life.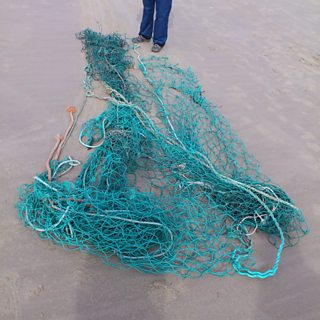 © R. Bointon Seals face many threats
At rest and play
Seals can often be seen resting vertically in the sea with only the head showing in a posture known as 'bottling'.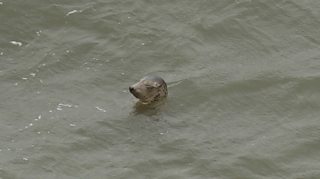 © R. Bointon Up periscope! A typical bottling position when at rest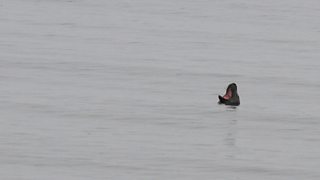 © R. Bointon It's a tough life being a seal!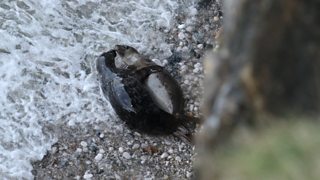 © R. Bointon Up close and personal!
These grey seals may look like they are clinched together in a loving embrace but they are actually taking a break from enjoying some very lively play fighting. Play fighting is an important part of the development of juvenile seals.
Watch and wait
Towards the end of the weaning period, mothers leave pups whilst they go off to forage, sometimes for many hours. This can result in seal pups being unnecessarily disturbed due to cases of mistaken abandonment. A seal pup should never be encouraged to go back into the sea as it may be injured, ill or exhausted.
A 'weaned' seal pup is no longer maternally dependent and this is a judgement that we have to make as BDMLR marine mammal medics.
The seal pup will be monitored for several hours from a safe distance and then, if it is clear that the pup has been abandoned by the mother, taken to a rescue facility to receive care. Rescuing a seal pup can sometimes be tricky when it turns from a docile blob of cuteness into a wriggling mass of muscle and teeth!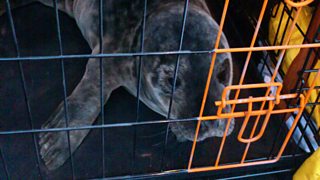 © R. Bointon Male seal pup we relayed to the RSPCA Stapley Grange Wildlife Centre
Call us
Anyone concerned for a seal's safety should not approach but should call the BDMLR Rescue Hotline 01825 765546. At the BDMLR, we welcome calls from anyone who is concerned about seals and don't worry - we are relieved, not annoyed, if the call-out is a false alarm!