Live TV has never been so green!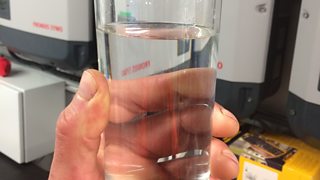 Making live TV takes a lot of energy and off-grid outside broadcasts are usually powered by gas guzzling diesel generators which pollute the planet with greenhouse gas emissions and particulates. But this year, our outside broadcast truck housing the gallery at the heart of the operation is powered by 'green' hydrogen which can be converted into 100% emission-free electricity using fuel cell technology.
Hydrogen is a colourless, invisible gas but the energy industry has given it colourful names depending on how the gas is produced. Grey and blue hydrogen come from fossil fuels but green hydrogen comes from splitting water (H20) into hydrogen and oxygen using electricity from renewable energy such as solar or wind.
Diesel generators give off carbon dioxide and nitrogen oxide – both potent greenhouse gases – as well as dirty particulates. The only by-products of hydrogen fuel cell electricity generation are pure water and heat, both of which can be used if needed on site. Winterwatch has found a pollution-free power source which protects our health, cuts carbon emissions and ultimately keeps the planet safe, too.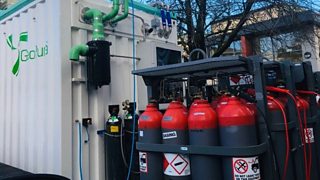 We're working greener at Winterwatch's three live presenter locations across the UK, too. They're all using intelligent hybrid generator systems which work flexibly, only delivering the power that's needed. Unused energy is diverted to charge batteries as a back-up power source. Trials with these hybrid power systems began on The Watches in 2020 and since then we've significantly reduced our fuel consumption and cut our carbon emissions.
Throughout the series, we've been testing the generators and running on green power as much as possible. The live broadcast on Tuesday 26th January ran only on hydrogen and battery power at the OB hub and the live presenter locations. We switched off the diesel entirely to show that hydrogen power is a viable green solution for the TV industry globally. As far as we know, this is a world first for a TV outside broadcast.
The Watches team prides itself on its green thinking and advances in sustainable production and we do our best make changes to our processes, big or small. Over the years, we've used methanol fuel cells to power remote nest cameras and embedded green working practices into our production methods, eliminating single use plastic where possible. We've changed our travel habits going from Bristol to Scotland by train, using electric buggies to transport jibs, taking bicycles on location for team members to use to get around and employing local camera crews where possible. The challenge is to think about our carbon footprint at every step of the process and embrace new ideas that come our way.