The Earth's eyes: Restoring the lost dew ponds
"We have no waters to delight
Our broad and brookless vales-
Only the dew-pond on the height
Unfed, that never fails ...."
- Rudyard Kipling
Joe Costley from Plantlife looks at restoring a piece of cultural Britain...
Dew-ponds are not natural features. They were created by farmers to provide drinking water for livestock. A functional origin, from which they have developed a surprisingly-rich cultural history; acquiring an aura of mystery and associations with the super-natural; capturing the imagination of poets, folk singers and artists.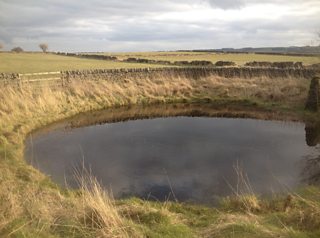 A nearby dew-pond previously restored by the Peak District National Park. Credit: Joe Costley/Plantlife
Dew-ponds are particularly associated with a few key areas of chalk and limestone including the South Downs, Yorkshire, the Lincolnshire Wolds and the White Peak in Derbyshire. Instantly-recognised by their saucer-shaped appearance, their construction was a work of great skill. Small gangs of specialist 'dew-pond makers' would tour the country, building ponds during the winter and spring; up to fifteen each year.
The South Downs are home to our oldest-known dew-ponds, where a few are known to date from the Bronze Age. Those in the White Peak were mainly built in the nineteenth century, but because of the sheer number (there were an estimated 2,500 at that time), the White Peak has a particularly strong association with them. One of the surviving White Peak ponds is at Plantlife's Deep Dale reserve, three miles west of Bakewell, and is currently the subject of a restoration project.
Deep Dale, like most dales in the White Peak, is now a dry valley; any surface water rapidly percolates into the limestone and is swallowed below ground. A 'sough' (underground tunnel/channel created to drain water from lead mines) outlet partway up the dale can produce torrents of water after winter rains, but generally runs dry in the summer months. Rearing livestock in such a desiccated landscape raised obvious difficulties. So at Deep Dale, and on adjacent fields, local farmers created dew-ponds (known locally as meres). The traditional method was to first excavate, by hand of course, the characteristic dish shape some 10 to 20 metres across. This would then be lined with a layer of lime ash and then two layers of puddled clay; each layer being beaten down by wooden rammers. Finally the pond would be paved with stone "setts" and then left to fill with water.
Many were impressed by the ability of dew-ponds to collect and hold water. Gilbert White noted that a "little round pond" (dew-pond) near to his home in Selborne was "never known to fail" even during severe droughts. People wondered where dew-ponds got their water from; it seemed almost magical. By early twentieth century the mystery reached fever pitch, with debates in the letters pages of The Times and The Field and elaborate experiments to resolve the matter. We now know that most of their water comes from rainfall, rather than condensing dew. But the fascination remains, and it is certainly the case that ponds were built with dew-catching in mind, many being built on a bed of straw to keep the stone lining insulated from the warmth of the ground beneath.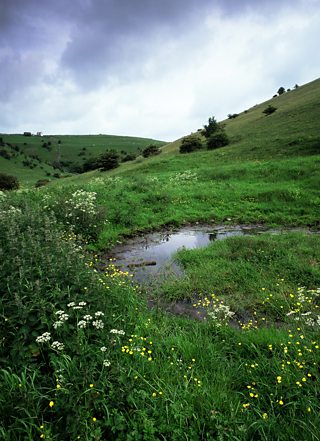 A dew pond waiting to be restored. Credit: Joe Costley/Plantlife
Even in purely visual terms, dew-ponds have an undeniable magic about them, circular mirrors in the landscape, "the earth's eyes"; bright discs like an echo of a full moon. It is a magic that has been memorably captured by numerous celebrated artists including Eric Ravillious and the photographers Don McCullin and Fay Godwin.
The last of the professional pond-building teams were still operating in the 1930s. However, dew-ponds gradually became redundant, replaced by galvanised troughs connected to piped water. The remainder of the 20th century saw a great many ponds fall into neglect, with others being destroyed altogether. Of the 2,500 ponds known in the White Peak at the end of the nineteenth century, at least 50% have been filled-in or no longer hold water.
In recent years, however, there has been a small but important revival in the fortunes of dew-ponds. The Peak District National Park Authority (PDNPA) has provided funds for the restoration or maintenance of over 200 ponds since the 1990s. As a result, a skilled, albeit small, band of new pond-makers has emerged. One of these is Dan Spencer, who has himself been involved in the restoration of around two-dozen ponds, his latest being at Deep Dale nature reserve; a project led by Plantlife and supported with funding from the Derbyshire Environmental Trust through the Tarmac Landfill Communities Fund and the PDNPA.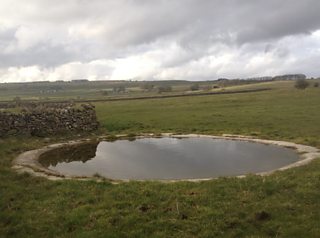 A white peak dew pond restored using concrete. Credit: Joe Costley/Plantlife
I met Dan last week as he was completing work on the pond, his face lit with a smile that spoke instantly of a great pride in his craft. "I love being in these places" he said. It took Dan about 5 weeks to complete the restoration, working nearly every day, often from dawn to dusk. Dan will now leave the pond to fill naturally with rainwater, which he reckons could take until the end of Spring.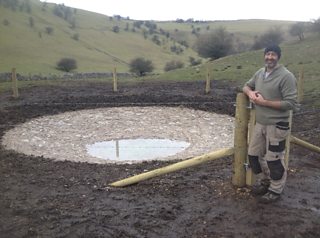 Dan Spencer with the newly-restored dew-pond at Deep Dale nature reserve. Credit: Joe Costley/Plantlife
In a landscape largely devoid of standing water, dew-ponds in good condition can support a surprising-rich aquatic life, most famously, the great crested newt. In restoring the dew-pond at Deep Dale, we are providing a scarce and important wildlife habitat; but we are also bringing back a little bit of magic to this corner of the Derbyshire Dales.