Jan Wells lives in North Cornwall, over the last few years she has been spending time every day collecting rubbish from the county's beaches. She uses social media to show what she has collected. Such a simple act, such a huge difference. In a special post, she writes for the BBC Watches blog on how she's helping nature - and how you can do so too.
I recently completed a personal challenge, nothing massive, I didn't climb a mountain or raise lots of money but I did tweet a #2MinuteBeachClean, consecutively for 365 days. I live in North Cornwall where Martin Dorey's two minute beach clean idea was born, it's simple but genius, encouraging people to spend 2 minutes picking up after they've enjoyed the beach.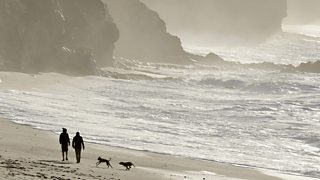 Photography by Kevin Keatley
I loved the idea and wanted to help raise awareness, tweeting a clean every day seemed a good way to do it especially as whatever the weather my dogs need walking.
There are so many beautiful beaches to choose from, picking up every day was no hardship and it's a fabulous feeling knowing the net I pick up won't carry on fishing, the plastic bottles won't break down into multi coloured confetti and that I'm doing what little I can to help.
It's not just the landscape of the beach that changes regularly, the type of rubbish does too.
There will always be the usual suspects like the single use drinks bottle but after heavy rain we will see a rise in sewage items like tampon applicators, cotton bud sticks and disposable razors.
Some people still believe the toilet is a magic portal to another world and unfortunately these products escape through the waste water treatments and litter our beaches.
Storms and rough weather give the sea a chance to spit out larger quantities of plastic, you can find literally anything on the beach then. My most exciting beach find is a Quaker Puffed Wheat Deputy badge from a 1958 promotion, it was just balanced on a rock, after a belter of a storm, and is in amazing condition for its age.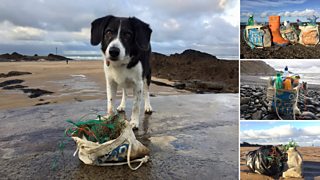 A collection of Jan's recent collections from beaches near her home. Credit: Jan Wells / Twitter
Like most people I love the summer season, bright days and long evenings but the downside is the increase in recreational litter, disposable BBQs, beer cans and broken bottles, we don't get to see the half of it either as the council men are up early clearing the beaches and dunes on our main beaches but what we do see is disheartening.
When I'm on the beach I still love to look for the natural treasures, mermaids purses, starfish, unusual shells or the glimpse of a seal and in return I take the rubbish away hoping my children will still be able to enjoy these natural things when they're my age.
You can find Jan Wells on Twitter @MrsJw91Wells. Two Minute Beach Clean recently launched an app to encourage people to get out and help their local wildlife.
The BBC is not responsible for the content of external websites.