Hello! Here's what's been happening this week
1) A great year for the bittern
The population of Britain's loudest bird, the bittern, is booming according to conservationists. The wetland bird was previously extinct in the UK but this year numbers are at record levels - with at least 164 birds counted at 71 sites, compared to 162 at 78 sites last year. The RSPB said the bird's success has been down to intensive conservation efforts to protect its preferred habitat of dense, wet reedbeds.
2) Bird watchers spot 'dinosaur' in starling murmuration
Earlier this week, bird watchers at WWT Martin Mere in Lancashire were lucky enough to make a observe special dina-discovery whilst watching the aerial acrobats perform in the skies above the reserve.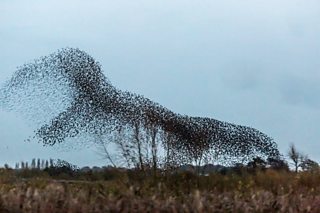 3) Winners of British Wildlife Photography Awards announced
13 images were selected by judges to become finalists for the prestigious award, but only one could be the winner. It was decided the best image was of a pied wagtail resting in a tree at London's Heathrow Airport, but all of the entries deserve a 'special mention'.
4) Aurora Borealis spotted over British Isles
There were some spectacular displays of the Northern Lights across northern and central Scotland on Tuesday night. BBC Scotland website readers and BBC Weather Watchers sending in gorgeous images of the Aurora Borealis. The phenomenon is caused by the interaction of the solar wind - a stream of charged particles escaping the Sun - and our planet's magnetic field and atmosphere.
5) Government supports ban on neonicotinoid pesticides
Environment Secretary Michael Gove has said the UK will support an extended Europe-wide ban on controversial neonicotinoid pesticides. Environmentalists have long said that the chemicals were harming pollinators, but until now the government had said that there was insufficient evidence to support a ban.
6) Seahorses are living in the Thames
Marine biologists at the Zoological Society of London say seahorses are now calling the capital's river 'home'. Scientists have spotted six of the animals in the past two months, previously only one or two were spotted annually. It's thought two species are living in the river and its estuary - the short-snouted seahorse and the spiny seahorse.
7) Wild otter caught on film in Peak District for first time
Scientists at the University of Sheffield have captured the first ever footage of a wild otter in the Peak District as part of a study which could help recovering otter populations. The footage, which was filmed by a research team led by the University of Sheffield's Department of Animal and Plant Sciences, shows an otter marking territory by leaving droppings, or spraint, on the bank of a river.